Graphite
Graphite is a key component in most lithium batteries and currently is the anode. All existing systems use a full fossil fuel-powered graphite source ex-China. It is a dirty secret.
Graphite is used in batteries, brake linings, lubricants, powdered metals, refractory applications, and steelmaking. In 2020, the U.S. was 100% net import reliant on graphite from countries that included China, Mexico, Canada, and India.
Batteries use is currently a minor proportion of existing graphite production. Traditionally, the graphite industry's primary use is use in refractory (or "heat-resistant") bricks, which line the inside of blast furnaces to protect them from the heat generated in steelmaking. In 2021, China will produce >700,000 tonnes of flake graphite, or 70% of global flake graphite production. The growth in demand from EV batteries would increase demand 10 fold to over 3m tonnes – the majority in EV and energy grid storage. The use of graphene is also expected to rise.
So there is much activity to substitute other graphic forms. But it is not just the FF source, but improved battery performance – for both efficiency of charge and longevity. While currently, the graphite supply chain is dirty and carbon-intensive, Novonix, (NVX:ASX) from Tennesee USA is scaling up its capacity to produce 150,000 metric tons per year of synthetic graphite by 2030. The indicative life cycle analysis shows a 60% decrease in CO2 emissions (or 2.5 times) than the existing primary graphite processing facilities in Inner Mongolia and Heilongjiang Provinces, China.
Topics Covered
Graphite
Conventional use of graphite is in blast furnaces and as well as EV batteries the market is huge as a fire retardant in building material cladding – think Grenfell Tower fire, or Australian wall cladding. With 5% content that is over 2 million tonnes demand. Graphite can be turned into Graphene, and market researchers say this will be a $1b market by 2023.
Graphite can be up to 95% of batteries so the carbon footprint and effectiveness are key. Existing sources of graphite is fossil fuels. Hence the drive to get other sources – natural, rather than synthetic and zero carbon footprint.
Batteries take about 14% of the global graphite supply. An increase in batteries in EVs and in electricity storage has created a gold rush for natural graphite. Graphite is an essential material within EV batteries. On a weight basis, there is more graphite than lithium in a lithium-ion battery, with an estimated 54 kg required for a Tesla Model S (100kW battery). Demand for lithium-ion anode material is forecast to increase to 1.9 million tonnes by 2028, and it is anticipated that graphite will remain the anode material of choice for decades to come.
The second primary reason is strategic – China has most of the global market, so both USA and European manufacturers are scrambling to have more resilient supply chains.
Consultancy Benchmark Mineral Intelligence (BMI) sees a roughly 20,000 tonne graphite deficit in 2022, versus a similar-sized surplus last year. About 20,000 tonnes of graphite is enough to make batteries for roughly 250,000 EVs. (Reuters Dec 2021).
Note: LFP is lithium iron phosphate, NMC have varying amounts of lithium, nickel, manganese and cobolt. Other cathode research is looking at sodium and other elements. But graphite remains the major component of batteries.
Graphite for Batteries Issues
Graphite is produced from fossil fuels = solely from China and uses needle coke. The current supply is both dirty and polluting and opaque.
Natural versus synthetic challenge.
All the R&D focus is on the on cathode – eg. LiFe Cobalt etc
100% of anodes are currently graphic and a silicon will not displace the graphite.
There will be as

much as for lithium

but the industry is 5 years behind lithium
IEA forecast that Lithium will be No1 but graphite is No2
There are some interesting research (eg Novonix) that is looking to improve the efficiency and capacity of new sources of graphite such as ITech Minerals, Jalar, Ecograph, and Blackrock Mining.
Natural Graphite Improves Battery Performance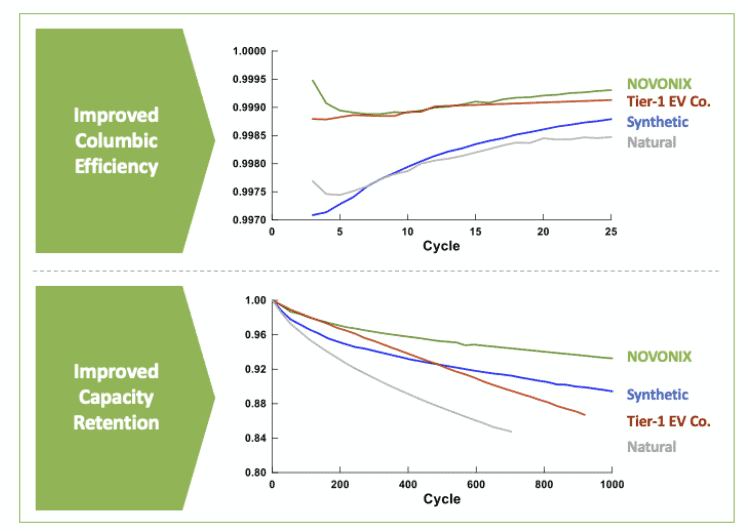 Natural Graphite Increasing in Batteries
The use of natural graphite in batteries has been growing and is expected to surpass synthetic graphite in 2025. Natural graphite is less energy intensive to produce, much less expensive and provides greater energy density than synthetic graphite.
Tesla/Panasonic already uses 50/50 natural graphite/synthetic graphite and the "in-development" 4680 battery is expected to comprise 55-60% natural graphite / 40-45% synthetic graphite.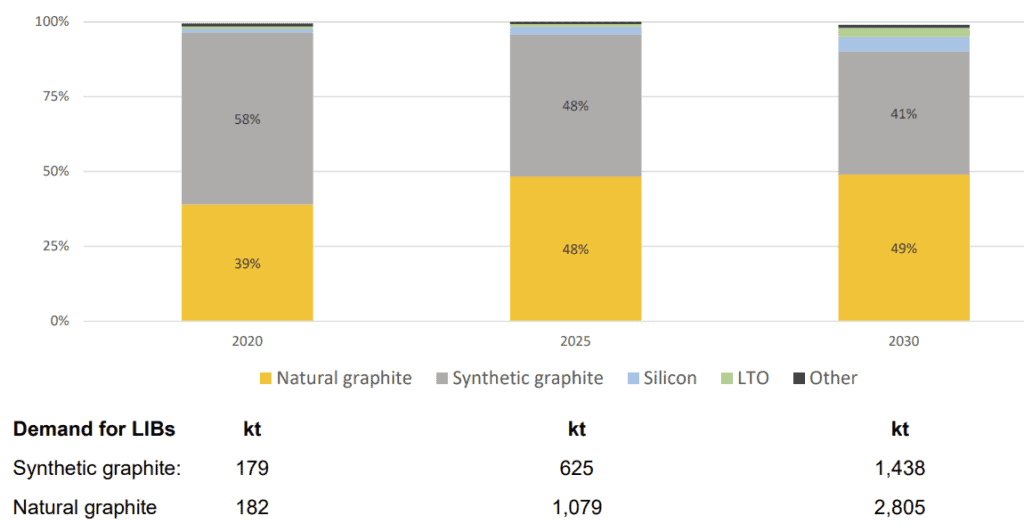 Graphene
Graphene usage in lithium-ion batteries is an emerging technology, where Graphene is used as an additive in the compound mix of the Cathode electrode terminal to effectively make the terminal more conductive. Graphene enhanced batteries allow for increased electrical density, more rapid recharge times, less weight, as well as having the ability to hold the charge longer which improves the battery's lifespan.
Graphene is technically defined as a single atom layer of crystalline carbon in a two dimensional 'honeycomb' type structure, but the term "Graphene" is often extended to include material made up of multiple stacked single layers of (single layer) Graphene. Material comprising up to 10 layers of Graphene is sometimes referred to as "Few Layer Graphene" (FLG), whereas material with between 10–150 layers of Graphene is known as "Graphene Nano Platelet" (GNP)
Graphite Sources
Graphite electrodes are used in electric arc furnaces (EAF) and ladle furnaces (LFP) for steel production, ferroalloy production, silicon metal production, and smelting. Natural graphite is traded in four major flake size fractions:
-100 mesh;
+100 mesh;
+80 mesh; and
+50 mesh.
It is the -100-mesh product used in the production of spherical graphite for anodes that has analysts predicting the graphite market will enter a period of unprecedented growth.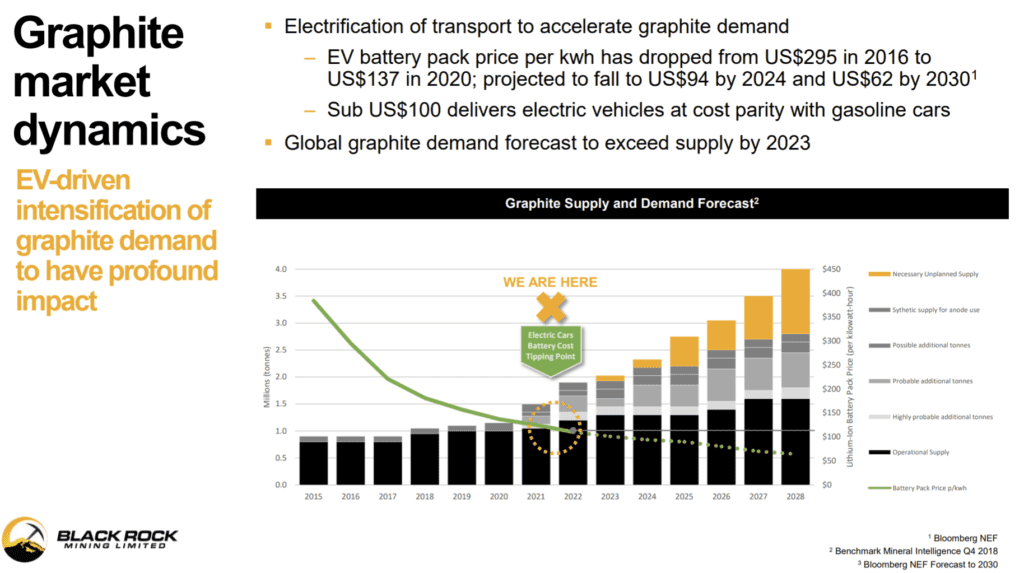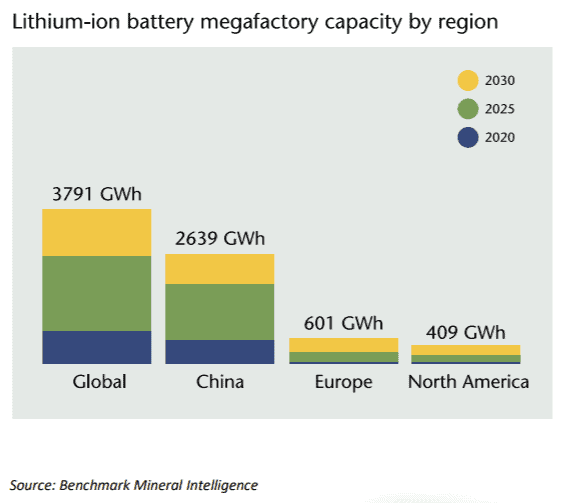 Battery Demand shows Graphite Key
Graphite Manufacture
Synthetic graphite is made by heating a variety of carbon-containing substances (including petrochemicals, pitch, coal or acetylene). When super-heated (to temperatures higher than 4000°C) the carbon atoms rearrange themselves into layers to form graphite.
Currently, the manufacture of graphite is from 100% fossil fuels -with a release of CO2 and the world is seeking carbon neutral manufacturing.
For the vast majority of graphite, 100% supply chain and sustainability is hidden. There is lack of understanding of supply, and it is where lithium was 4 years ago, There are junior minors in both Canada and Australia, but the plants need to be on a path to zero carbon and sustainability.

Table 1. Studies show varying levels of CO2 in anode material used in battery LCA studies
| | | | | | |
| --- | --- | --- | --- | --- | --- |
| | PEFCR 2018 | GREET 2016 | Ecoinvent version 3.1. | Gao et al, 2018 | IVL |
| Product | Carbon black | Synthetic Graphite | Natural Graphite | Natural Graphite | Synthetic Graphite |
| CO2 per kg | 2.34 | 4.9 | 1-2 | 5.56 | 4.9* |
From Minviro.
Around 75,000 tonnes of graphite is required to create 1 million EVs, meaning that 900,000 tonnes will be required to meet the 12 million EVs that will be produced by 2025.
Graphite Energy and Carbon CO2 Content
A question is how polluting is synthetic graphite productions and how polluting is "natural" graphite. Mined graphite sources have the energy required to mine, process and use. Synthetic graphite requires coking coal as the raw material, and the intensive energy in that process, which when uses fossil fuels can be very high. More detail can be found in this miners.com article.
A report by environmental consultancy and software provider Minviro states the true climate change impacts of producing battery-grade graphite can be as much as 10 times higher than published values, depending on the energy and material inputs.
Renascor is an Australian graphite miner. Here is their process, and they are focused on reduction of energy input or using green energy to reduce carbon intensity.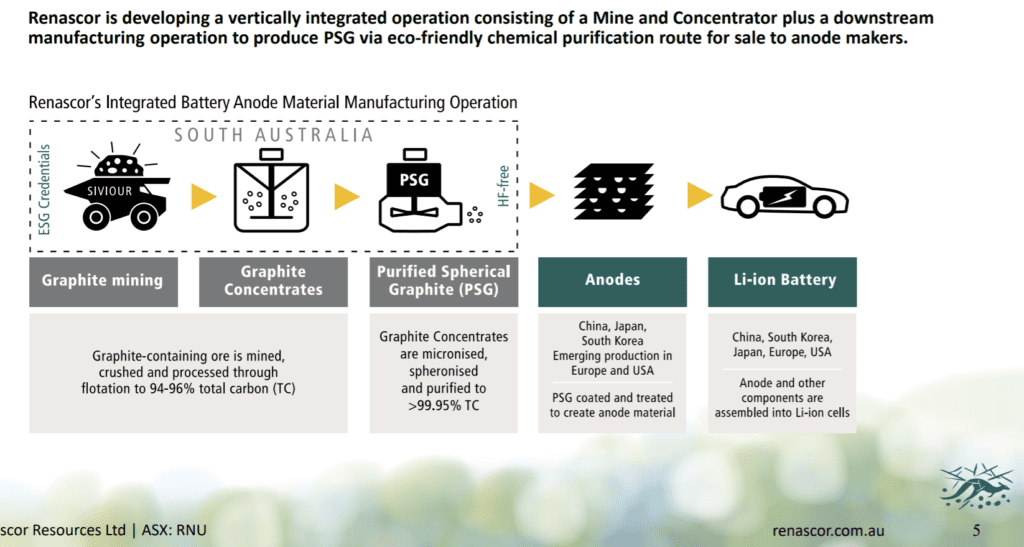 Opportunity for New Mines
Demand outlook for anode manufacturing is mounting to meet the projected 4,625 GWh of global lithium-ion battery production capacity in the pipeline by 2030, a 13% increase since the end of Q2-2021 (Benchmark Mineral Intelligence, October 2021). October announcements from battery manufacturers totaled 430,000 tpa of new anode production capacity, elevating the global projection to 5,030,700 tpa. Purified Spherical Graphite (PSG) is used as anode material for lithium-ion batteries
The demand for PSG is set to increase ten-fold over the next decade.
Most PSG comes from China using highly toxic ingredients for purification
Opportunity exists for meeting expected demand growth from environmentally sustainable PSG production from Australia or Canada
Australia has strong technical capabilities together with a range of Government funded initiatives such as the Future Battery Industries Cooperative Research Centre (CRC)
Canada has clean energy, and close to battery manufacturers.
The Australain Burke deposit (LEL) is ideally located close to Townsville where Townsville Energy Chemicals Hub (TECH) is being considered as a center for battery, or the Renascor (RNU) in South Australia close to ports with renewable energy.
Most African mines will be taken up by Chinese manufacturers.
Canadian Graphite Companies
Nouveau Monde Graphite is developing the Matawinie graphite project near North Montreal, Quebec. The project is forecast to produce 100,000 metric tons per year over 26 years with an average concentrate purity of 97%. The company is targeting commercial production for 2022. (for more info check out this review)
https://investingnews.com/daily/resource-investing/battery-metals-investing/graphite-investing/top-canadian-graphite-stocks/
| | | | | |
| --- | --- | --- | --- | --- |
| Company | Code | Where | Annual Production Potential | Cost to Production($m) |
| Gratomic | TSXV:GRAT | Aukuam (Namibia), Quebec | 20,000 | Q2, 202199.98% purity |
| NextSource Materials | TSXV:NEXT | Sth Madagasca | 17,000Q2, 2022 | 25m$566 / T cost |
| Graphite One | TSXV:GPH | Alaska | 60,000 / 40 year | 363m95% graphite |
| Lomiko Metals | TSXV:LMR | Quebec | | |
| Northern Graphite | TSXV:NGC | Bisset Creek | 25,000 /23 | 110 |
| Nouveau Monde Graphite | TSXV:NOU | Matwinie | 100,000/26 years97% purity | |
| Focus Graphite | TSXV:FMS | Lac Knife | 44,300 / 25 years | 166 |
| Canada Carbon | TSXV:CCB | Miller, Ashbuy, Dun Raven | 1,500 | 44 |
| Mason Graphite | TSXV:LLG | Lac Gueret | 51,000 / 25 years | 258m, at price 484/T |
Here is some data from Investing News
Representing +95% of the anode, graphite is the most controlled mineral of all battery materials, with China currently producing 100% of the global spherical graphite supply. Graphite prices continue to rise as a result of energy shortages in some Chinese provinces and major logistics disruptions (Roskill, October 2021). These price increases are a reminder of the importance of establishing strong partnerships with reliable and local suppliers such as Nouveau Monde to mitigate that risk.
Projected to be the largest and most advanced natural graphite operation in North America, Nouveau Monde is carrying out its de-risked phased development plan to build a localized, turn-key, and carbon-neutral alternative to Chinese supply.
Australian Graphite Companies
There are over 16 ASX companies with graphite reserves but none are yet in production. (2022)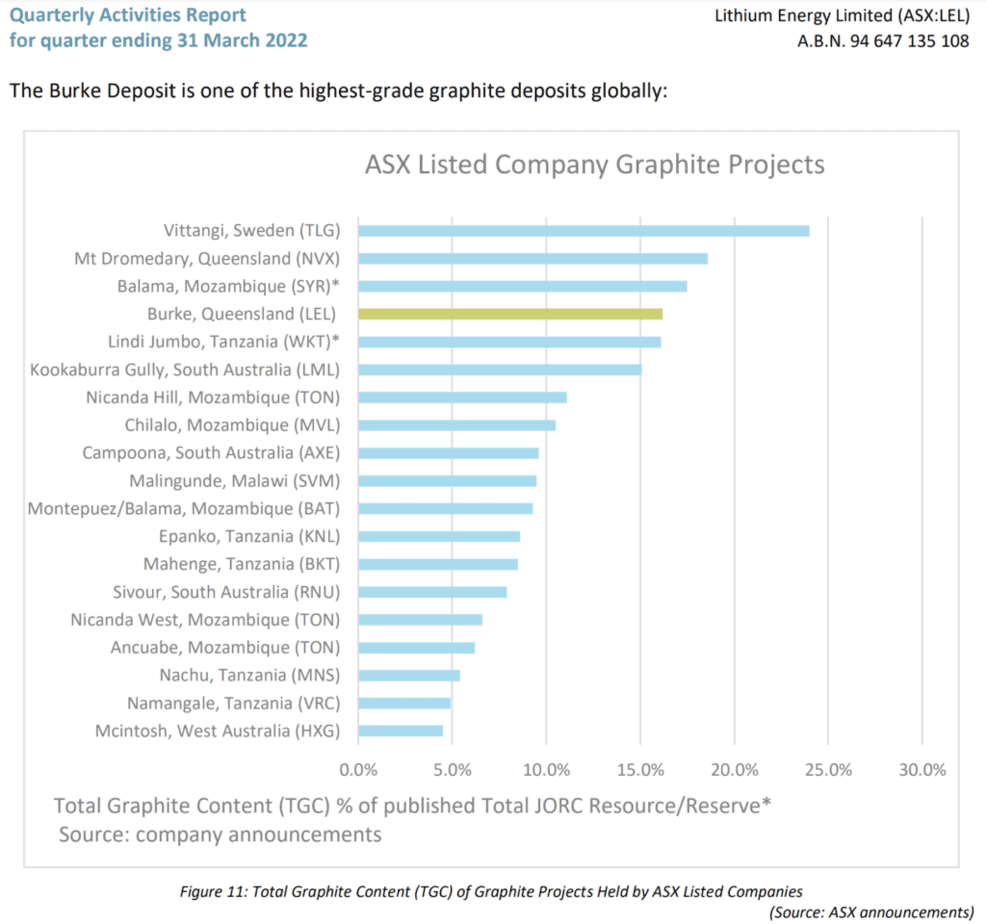 USA Graphite Companies
Here is a table of 16 graphite stocks. See information about graphite and graphene.(Check out the page here)
Some analysts have calculated that if one invested $10,000 in 10 x $1,000 stocks then the value of those over the past 5 years would be 43%. One issue is which company will develop to production and secure sales to increase value?
Reference https://www.buyupside.com/sample_portfolios/graphiteusexchanges.php
The current value of a $10,000 investment is $38,770. The percent return is 287.70%. The annualized return is 31.13% over the past 5 years. Assume $1,000 invested in 10 different stocks.
Novonix Prediction For Graphite Demand
Novonix in its Dec 2021 half year report shows the following image and shows 345 GWh of Gigafactories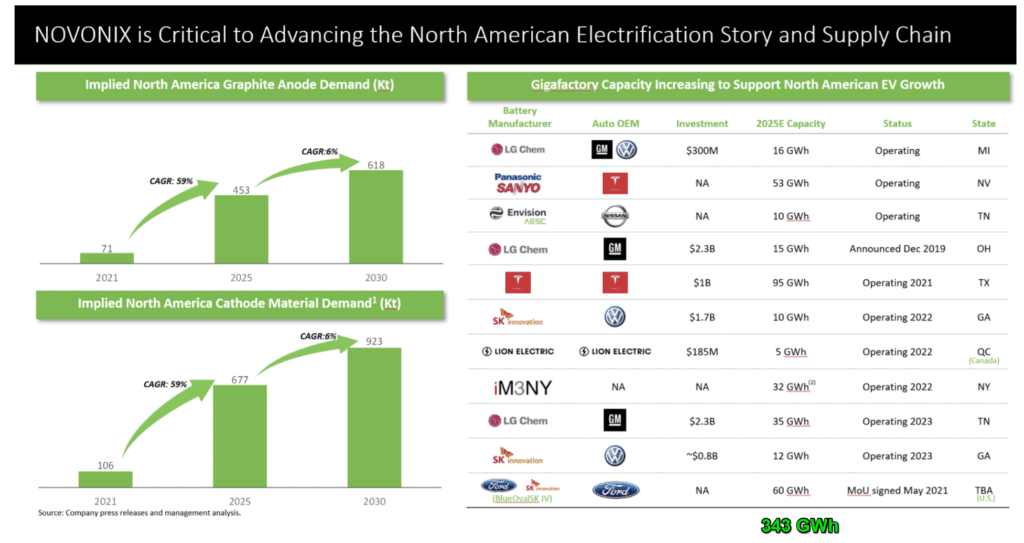 Additional Reading about Graphite for Batteries
Stockhead Graphite Review https://stockhead.com.au/primers/primers-graphite-stocks-asx-guide/
Replacement of Graphite Anode
"Graphite anodes and simple silicon compounds (Si, SiO, SiO2 ) for lithium ion batteries have reached their energy limit, which stifles EV performance" says Silar Systemns who have developed a nano-composite silicon Anode. They will be in production in 2024, and expect to have produced a million batteries over the next 5 years. They claim the technology can be used in all battery form factors such as can or pouch.
Disruption of graphite anodes is possible and potentially will disrupt batteries. They expected 150GW production by 2028. Read more at Clean Technica or at Sila Nanotechnologies