The numbers of robotaxi manufacturers in 2022 has slimmed down from enthusiasm in previous years as manufacturers have found the technology challenging. Robotaxis have been promised by many manufacturers but only a few robotaxi manufacturers in 2022 have deployed their technology into fare paying customers. There are over 33 robotaxi manufacturers still and it is a race to get to deployment for the majority.
It cannot come soon enough. A review of road accidents shows autonomous vehicles saves lives by reducing road accidents by over 4 times today and worth over $30billion just in saved lives and road trauma. For a full view, check out Robotaxis saves lives. Robotaxis will be a huge good business and disrupt the global car industry.
Who is the Leader of Robotaxi Manufactures in 2022?
Who is Closest to Market and Scale? There are some robotaxis that may have better technology. But who can scale manufacturing? Both need to be considered, as it is now value being first, but cannot deploy.
Tesla has 60,000 "Beta" testers of their "FSD" which would be level 4. The driving ability has become safer than humans. They could deploy to the 2m cars they have produced and by 2023, they would have 3.5m cars the software "could" be turned on. Tesla have hinted they will produce a dedicated robotaxi vehicle
Waymo has a product already fare paying. But they need to scale to other cities, and to other manufacturers.
Pony.AI has operating services in 4 cities in China
Cruise has robotaxis in 1 city and will be deployed by a GM specific vehicle
Navya has self driving shuttles.
See the table below for more of the contenders and suppliers in this space.
Market is Crowded
For a good detailed review vehicle manufacturers and their announcements (Link here)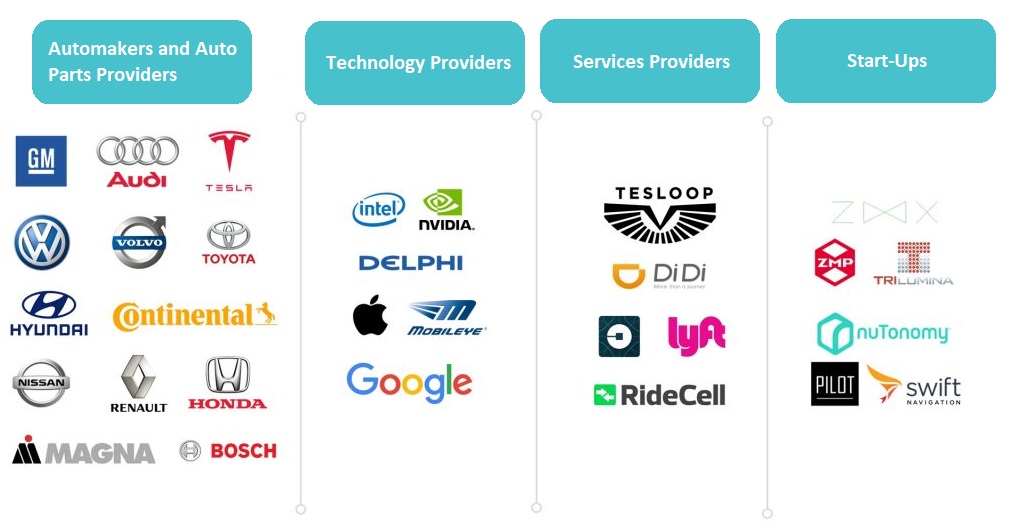 Landscape of Robotaxi Manufacturers In 2022
This chart is often shown as who is who. And has Tesla at the bottom of the strategy and technology. Hotly contended given FSD from Tesla is to build the edge cases with real drivers. But shows the efforts of all.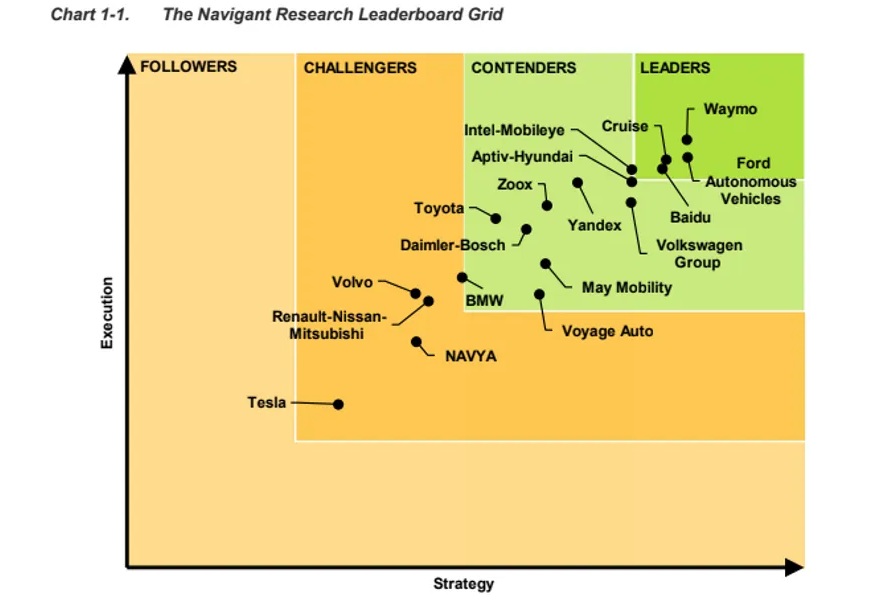 The number of providers to this industry is huge.
Companies Developing Robotaxis
There are multiple companies developing Robotaxis over the past 20 years. Many have been started, then adsorbed by others.
SF=San Francisco - center of autonomous vehicles
Data from various including BuiltIn
For detailed view head to Grey B Review
Company
Started
Stage
Cities
No.
Notes
Website
Tesla
2008
Beta testing
USA
60,000
FSD with humans required
Tesla FSD program
Cruise
2013
Beta
SF
200
Currently 10pm to 6am in San Fran, with volunteer. Soon to be commerical
Cruise
Waymo
2009
Commercial
Phoenix, AR,
SF
Europe
100
Range of vehicles. Waymo and Zeekr, Geely's, jointly develop BEV Europe
Volvo agreement
Other companies including Jaguar
Waymo One
Pony.Ai
2016
Cars
Trucks
Shenzhen
Shanghai
Beijing
Guangzhou
Uses NVidia, Robotaxi services in Beijing. Uses ONTIME, GAC's ride-hailing app.Pony partnered with Lexus, Hyundai, and Lincoln to pilot their unique tech
Pony AI China
Zoox
2014
Beta
SF
Purchased by Amazon on demand mobility
Zoox Vehicle
Navya
2014
Production
Lyon, France, Japan, Saudi
100
15 seat Shuttles at airports, communities, universities. with Leolis
Navya shuttles
Kia-Hyundai
2023
Planning
South Korea
Motional- JV Hyundai and Aptiv and using Ioniq-5 vehicle 30 sensors
Hyundai Robotaxis
Mobile-Eye
2002
Production
launch in Germany, Israel. Paris.
Provide systems to 25+ vehicle manufacturesrs, with 100m and 300 models with Mobileye technology
MobileEye Iintel Company)
Ford
Beta
Austin, Miami, Washington DC
Technology partner Argo AI, integrated into our Ford Escape Hybrid vehicle platform
Ford Autonomous
Audi
2030
Concept cars
Germany
Will use NVidia stack. Testing in China
Audi
NVidia
1998
Deployed
USA
Provides self driving hardware and software.
Provide the full compute and AI to variety of manufacturers. Open NVIDIA DRIVE Software stack
Nividia Solutions
Huawei
2025
Moving to AV.
China
400
Providing telecom solutions for autonomous cars
Huawei Telecommunications
Motional

2020
Pilot, deploy 2023
US, Boston
100,000 rides
Partners Lyft, Via, Uber Eats, Aptive, Hyundai.
Motional
Voyage
2017
Deployed
SF
Senior citizens in retirement communities, but purchased by Cruise in 2021
Cruise bought voyage-
Swift Navigation
2012
Provider
SF
Millions
GPS provisioning, lane-level for autonomy and ADAS
Swift Automotive
Embark Trucks
2016
Beta
SF
dispatch fleets of driverless trucks and shipping vehicles
Embark Self driving trucks-
Carmera
2015
Provider
SF
HD mapping technology for use in self-driving vehicles. Crowd sourced, updated maps.naut
Carmera Road Intelligence
Nauto
2015
Provider
SF
800 brands
fleet safety platform, driver behavior tracking alerts, built-in incident reporting, and predictive collision alerting systems
Nauto Predictive AI-
Ouster
2015
Digital Lidar
SF
6000 shipped, 600 customers
3D lidar sensor technology used in mining, automotive, truckng
Ouster Lidar
Unity Technologies
2004
Provider
SF
3D tech and VR for use in AV simulatons and optimese
Unity Tools
WiTricity
2007
Supplier
Watertown MA
wireless charging essential for robotaxis
WiTricity Wireless Charging
Arity
2016
Provider
analysis of driving and big data
Arity telematics-
Magna (Optimus Ride)
2015-2020
ADAS systems
Boston
fully autonomous shuttle service on campuses and small communities purchased by Magna. Magna has Lidar and ADAS systems
Magna - includes Optimus Ride
AutoX
2016
Deployed
Shenzen, Shanghai, Wuhan Wuhu, + Silicon Valley.
500
Operating. USA Based San Jose
AutoX
Aurora / Uber
2009
Sold to Aurora
SF
Given up developing themselves. Sold to Aurora
Aurora Self Driving
ABB
1988
Provider
Colorado
Provide range of products for self driving cars. Purchased ASTI mobility robots
ABB electrification for AVs
CloudMade
2008
Provider
SF
Automobile personalization technology and smart AI technologies
Cloud Made OEM
Lumotive
2018
Lidar provider
Seattle
environmental scanning tech is integrated with beam steering systems
Lumotive
Seeva Technologies
2016
Lidar extra
Seattle
Thermal adjustment and cleaning technologies to keep the line of vision clear.
Seeva Technoligies
Reality AI
2015
New York City
Sound sensors. Partners Denso,
Reality AI product
DeepScale
2015
AI
SF
integrate deep neural network technologies with self-driving technology. Bought by Tesla
Tesla aquires DeepScale
HAAS Alert
2015
Emergency Responders
Chicago
Safety Cloud communicates road safety data to and from their networks. Stellantis. Waze
HaaS Alert system
Nodar
2018
Provider
Boston
3D peripheral sensors for driverless vehicles
Nodar long range 3D vision
Nexar
2015
Provider dash cams
1000 cities, 95% of US freeways
Linking their cameras with computer components that are already in cars today, in fleets
Nexar Car Cams
AEye
2013
Lidar provider
AI driven adaptive LiDAR, 4Sight targets and processes information in real-time, delivering faster, more accurate and reliable data. Partners Continental,
AEye Lidar
May Mobility
2017
Shuttles
Arlington, Ann Arbor, Hiroshima, Japan, Detroit, and Grand Rapids
25 shuttles, 300k rides
Partners with Toyota, Bridgetone, fleet management,
May Mobility Shuttles
Argo AI
2016
Provider, Lidar, AV system.
Detroit, Munich, Miami, Palo Alto, Pittsburgh, D.C., and Austin
Builds cloud infrastructure including maps, software, and hardware for a complete platform for self-driving cars. Partners include VW, Ford, Lyft, Walmart,
Argo AI -
WeRide
2017
L4 AI technology, with OEMs
Guangzhou
Over 10m km, 147,000 trips, 60,000 passengers. Funded Renault-Nissan-Mitsubishi Alliance.
We Ride
Nuro
2016
deployed delivery vehicle
CA, USA
3rd Gen, small delivery van, for food and services.With heating / cooling compartments.
Nuro Delivery Robo Vans
Otonomo
2015
deployed
Israel.
50m vehicles.
Data mining. mapping, EV recharging, usage-based insurance, emergency services, parking
Otonomo Data
Hesai Technology
2015
Lidar, provider
China
QT128 is an ideal blind spot solution for L4 applications such as robotaxis and robotrucks. Partnered with SAIC, Zoox.
Hesai Technology
Einride
2016
Deployed
Sweden
Self-driving Einride Pod and E-Truck. freight hauling and trucking. Customers Coke, Michelin, Svenska,
Eiride Trucking
Momenta
2016
Software Self Driving development
Beiing
Self driving for private vehicles. Open solution.
Monenta China