Coal plants are increasing globally is false information but that does not stop the coal lobby and anti-renewable lobby from promoting the opposite of this data. They buy into this misinformation as it suits their agenda that renewable energy is unreliable or expensive, or a host of climate denier arguments.
Outside China, the global coal fleet shrank for the fourth year in a row. More than half (56%) of the 45 gigawatts of newly commissioned coal capacity was in China. This graph shows China's share of coal under development increased in 2021 by 7% to 55% (251 GW), now accounting for over half of the capacity under development in the world for the first time.
Coal plants given a close-by date nearly doubled to 750 coal plants (550 GW).
Only 170 plants (89 GW), or 5% of the operating fleet today, are not covered by a phase-out date or carbon neutrality target.
Global Energy Monitor Data
World 2,400 coal-fired power plants operating
79 countries
Total of 2,100 GW of capacity.
176 GW of coal capacity under construction at more than 189 plants
280 GW is in pre-construction at 296 plants.
In 2021, the operating coal fleet grew by a net 18.2 GW
From the full report from Global Energy Monitor https://globalenergymonitor.org/report/boom-and-bust-coal-2022/
Coal Plants Are Increasing Globally is False Information From Global Energy Monitor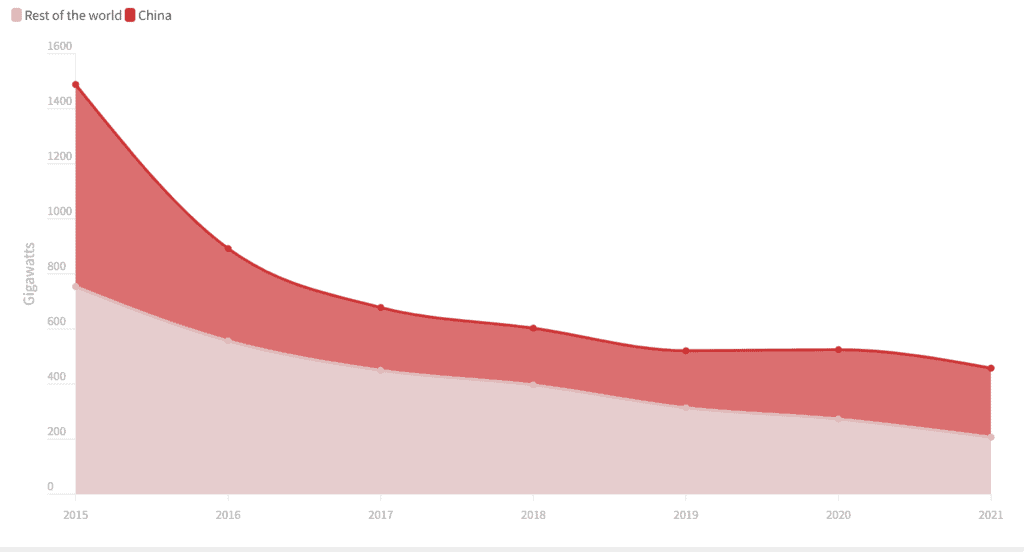 Retirement of Coal Plants
U.S.

16.1 GW in 2019
11.6 GW in 2020
6.4 GW to 9 GW in 2021

European Union's 27 member states retired a record 12.9 GW in 2021

Germany (5.8 GW)
Spain (1.7 GW)
Portugal (1.9 GW). Portugal became coal free in November 2021, nine years before its targeted 2030 phase-out date.