Numbers from EV Volumes Database show global adoption of EV surges in 2023 Q1 and is 40% higher than EV adoption in 2022. Quarter-by-quarter sales are increasing exponentially. Globally over 10% of all light vehicles are BEV. Over 20% of new light vehicles are trucks and pickups and that market segment has a minimal supply of electric vehicles currently.
In Norway, 80.7% were fully electric (up from 73% in 2022), 16% hybrid, 2.1% diesel and 1.2% petrol
NB. Numbers from different sources vary. CleanTechnica, Seeking Alpa, EV Volumes all show different numbers. PwC show that the increase from Q1 2022 to Q1 2023 rose by over 29%. March slowed to 22% YoY.
China is driving the change, although the USA and Europe are also rapidly increasing.
Snapshot of 2023 EV News by Seeking Alpha
Seeking Alpha provided this update
Global electric car sales for March 2023 were up 28% YoY to 16% share. China sales up 23% YoY to 34% share. Europe up 29% YoY to 23% share.
EV market news – EPA proposes auto pollution limits to aggressively boost EV sales. IEA says "nearly one in five cars sold globally this year will be electric".
EV company news – BYD overtakes Volkswagen as China's best-selling car brand.
Tesla overtakes Audi in global car sales.
Volkswagen plans 10 more EV models by 2026.
Fully electric vehicles (BEVs) represented 72% of plugin registrations in March, pulling up its year-to-date tally by two percentage points to 68% share.
Global Adoption of EV Surges 2023 – All Vehicles
Tesla's Market Share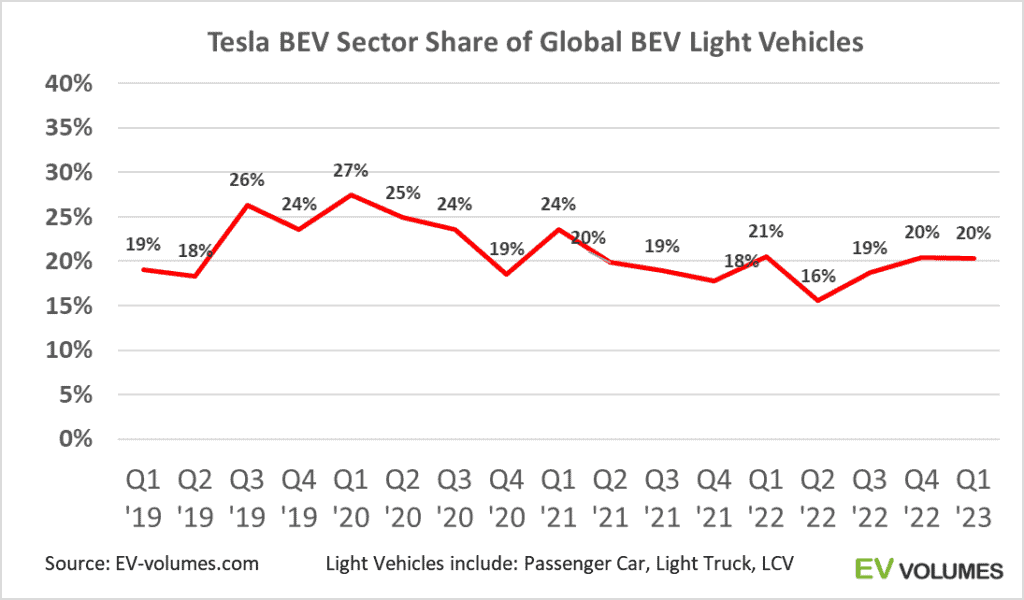 EV Surges 2023 in USA
The US electric vehicle market has been growing strongly year after year. Sales in 2023 Q1 were double than 2021 Q1. More than 5 times three years ago. Pure electric vehicle sales rose to 7.1% of US auto sales in the 1st quarter of 2023.
China EV Sales
China plug-in car sales Increased In March 2023 to over 34% share and up 36% YoY.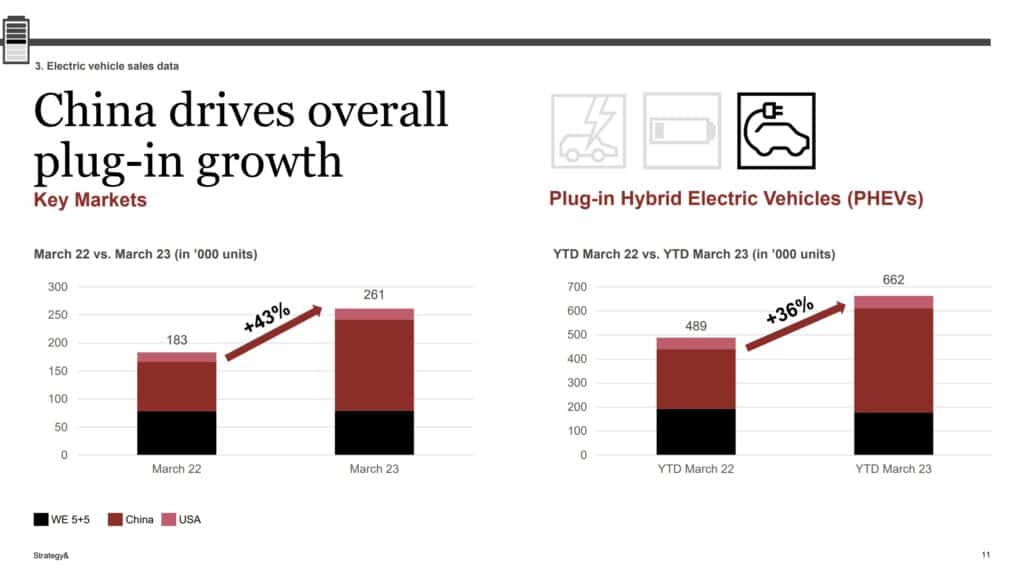 Top 20 Brands in 2023 Q1 (Jan-Mar)
Cleantechnica has an image of the EVs cars sold globally. Note the large number of Chinese brands sold.
Global Growth
Exponential Growth
EV Volumes forecast 14,3 million EV sales in 2023 with a market share of 17 % in global light vehicle sales. EV sales grow by +36 % in a global light vehicle market increasing +5 %