Two-wheel (2W) and 3-wheel (3W) motorcycles (or TukTuks in Asia) are widely used for transportation in China, India, Indonesia, Vietnam and Thailand and the uptake of electric motor scooters is rapid in China and India, and will occur in other scooter countries. Motor scooters are less common transportation in other Asian or Western countries where motorcycles are larger (>125cc) and more for leisure than for day-to-day transportation. The cost of motor scooters is generally less than $US2,000
Larger motorcycles are niche products with about 5% of sales but the value of the motorcycles is >$2,000. Larger motorcycles are increasingly viewed by consumers as status symbols.
Globally, the total number of motorcycles is stated at 300 million, but Riders Share have compiled a list with about 600 million globally.
Uptake of Electric Motor Scooters is Rapid
Global sales of E2Ws and E3Ws are increasing by more than 14 percent annually. That figure excludes sales in China, which was an early adopter of small-format EVs and is thus experiencing slower growth. By 2022, global sales of E2Ws and E3Ws could reach $150 billion. (Mckinsey)
Electric motorcycles are rapidly growing in popularity and in India and China over 20% of new motorcycles ( Bloomberg). Electric two-wheeler sales reached 31 million units in 2021, up 13% from a year earlier. Global sales of two-wheelers grew 11% in 2021 but were still below the pre-pandemic peak.
Nearly 70% of two-wheelers sold in China, and just under 40% globally, were electric in 2021. E-bikes will account for the overwhelming majority of new electric product demand, as they continue to capture market share from conventional bicycles and scooters. Both developed and industrialized nations are expected to register strong growth as the availability of reliable electric models increases.
Electric Motor Scooters Are Not Petrol Scooters
Tony Seba from RethinkX reminds us that a butterfly is not a caterpillar with wings. Electric motor scooters are not the same shape, have much more electronic control and range from in shape to fit the absence of a motor, gearbox, petrol tank, and drive chains. Motors are usually integrated into the wheel, which provides less weight in the frame and flexibility with the shape. They can do 80kph with larger batteries and motors, have a range of 80 km or more, and may have swappable batteries.
The price is half or less that of conventional gasoline scooters. Operating costs are electricity and not expensive petrol. As with electric cars, buses and trucks, electric scooters and bikes are much simpler.
Numbers of 2W Motorcycles by Country
Australia has about 900,000 motorcycles and is 42 on the list.
Global Motorcycle Revenue Numbers.
Revenue in the Motorcycles market has been growing. In 2020 was $75b, and projected to reach US$128b in 2023, with an annual growth rate (CAGR 2023-2027) of 6.94%, resulting in a projected market volume of US$170b by 2027 with about 56m units sold in 2020, down from 65m in 2019
The market's largest segment is On-road Motorcycles with a projected market volume of US$90.38bn in 2023.
Motorcycles market unit sales are expected to reach 65.13m motorcyles in 2027.
The volume weighted average price of the larger motorcycles market in 2023 is expected to amount to US$2,500 per motorcycle.
From an international perspective, it is shown that the most revenue will be generated in India (US$25,650m in 2023).
According to a Yahoo report that is consistent with other market reports, the global motorcycle industry generated $105.5 billion in 2021, and is anticipated to generate $233.5 billion by 2031, with a CAGR of 8.6% from 2022 to 2031.
https://www.statista.com/outlook/mmo/motorcycles/worldwide
Chinese Motorcycles
Chinese Conventional ICE Motorcycles
In 2021, there are ten major Chinese petrol-powered motorcycle manufacturers with sales volume. Chinese gasoline-powered motorcycle maker Da Changjiang is the best-selling brand in 2021, with a sales volume of approximately 2 million units. Loncin was the second best-selling brand, but it sold nearly twice as many units as Loncin.
Lifan, Loncin, Zongshen, Shineray, Jialing and Jianshe are all key players in Chongqing and these dominant players were known as the Chong-qing 6. They are China's largest motorcycle manufacturers, with 3 million motorcycles sold last year.
Other top motorcycle manufacturers in China include Grand River (Haojue brand and produces Suzuki motorcycles on an OEM basis) Qianjiang, Haojin, Bashan, Jonway, Wuxi Futong, and Cyclone. (see https://www.cmhi.com.hk/electric-motorcycle-factories-in-china/)
Chinese Electric Motorcycles
Electric motorcycles manufactured in China are gaining market share. In 2021, the Yadea brand had the largest share of electric motorcycles market in China, at 23.7 percent. It was closely followed by Luyuan, Tailg and Sunra, each with more than 10 percent market share (Statista). In fact, China accounts for around 30 percent of the global market for small-format EVs and more than 80 percent of 2Ws in China are electrified
India Motorcycles
India Conventional ICE Motorcycles
There are 221 million 2-wheelers officially, but informal numbers say closer to 375 to 400m. In 2022, two-wheeler sales in India were 13.47 million units, down from a high of 21 million in 2019, but double 2011 sales of 11.9.
The leading two-wheeler manufacturer in India was Hero MotoCorp.
https://auto.economictimes.indiatimes.com/news/two-wheelers/motorcycles/two-wheeler-sales-market-share-trajectory-in-q1-fy22-crisil-trims-growth-rate/84495030
India Electric Motorcycles
The electric motorcycle market in India is growing rapidly. The Indian electric scooter and motorcycle market size stood at USD 893 million in 2022 and is expected to advance at a compound annual growth rate of 27.30% during 2022–2030, to reach USD 6,161 million by 2030. Hero sold over 100,000 2w to 2022/23 and aimed for 0.5m within 12 months and 2m per year by 2025.  Hero has a 34% market share. Ola is another Indian electric motorcycle.
The Indian electric scooter and motorcycle market is projected to reach a millon sales by the end of 2025, exhibiting a CAGR of 57.9% between 2020 and 2025.
The top manufacturers of electric scooters include
Hero
Electrotherm (India) Ltd
Avon Cycles
Benling India Energy and Technology Pvt Ltd
Okinawa Autotechn Pvt Ltd
TVS Motor Co Ltd
Twenty Two Motors Pty (22 Kymco)
Bajaj Auto
Ather Energy Pvt Ltd
Ampere Vehicles Pvt Ltd (Greaves Cotton)
Tunwai E-Vehicles India Pvt Ltd
Ola Electric Technologies Pvt Ltd
Revolt Intellicorp PVt Ltd
Growth is due to several factors such as the growing need for energy-efficient commutes, favourable government policies, rising demand for zero-emission vehicles, and increasing fuel prices
The total number of electric 3W = 8m, electric 2W = 5.5m, and 4W 54,252. Sales of EVs in FY 2021-22 went up 3 times compared to sales of EVs in the previous FY 2020-21 of 1.34m (or about 10% of sales.
Global Manufacturers of Motorcycles
Manufacturer
Sales
Notes
Honda Motorcycle
17.5m
2018 =20m
2020= 15m
2021 =17.6m
29% market share. Half of global sales are in the ASEAN region, with 30% in India
Hero
7.6m
India Founded in 1984, The company grew with technology licensed from Honda but dissolved its joint venture with Honda in 2010.
Yamaha
4.5m
Japan
Bajaj
2.8m
India. 3rd largest 2W manufacturer and global leader in 3W. Technology licensed from Kawasaki
Lifan Technology
1m
China forecast 1.17m by 2027
Kawasaki
0.49m
Japan
TVS
3m
Founded by Sundaram Iyengar in 1982, has grown through technology licensing from Suzuki and is close to BMW.JV with BMW and acquired Norton. Make 3W as well
Zongshen
0.9m
Brands are Zongshen, Cyclone and Cineco (electric)
Jinan Qingqi
0.8m
China only. One of the largest manufacturers of scooters, OEM for Suzuki, JV with KR from Sth Korea
Ola
0.3m
Ola is India's largest electric two-wheeler manufacturer, with an annual production capacity of 10 million units. 30% market share in 2022
2020 global market size of the motorcycle and bikes industry to be $74.35 billion.
Yamaha Motor Co., Ltd. (Japan)
Suzuki Motor Corporation (Japan)
Honda Motor Co., Ltd. (India)
Eicher Motors Limited (India)
TVS Motor Company. (India)
H-D or its affiliates. (US)
Bajaj Auto Ltd. (India)
Ducati Motor Holding S.p.A (Italy)
Kawasaki Heavy Industries, Ltd. (Japan)
Triumph Motorcycles (UK)
BMW Group (Germany)
Lifan Technology (Group) Co., Ltd. (China)
KTM (Austria)
Polaris Inc. (US)
Impact of Oil Demand from Electric Vehicles
The electrification of motorcycles and other vehicles is expected to have an impact on oil demand. As more electric vehicles hit the road, the demand for oil is expected to decrease. For example, one source suggests that at 100-150 million EVs on the road, oil demand will drop 10-15%, bringing its price down significantly (CleanTechnica) .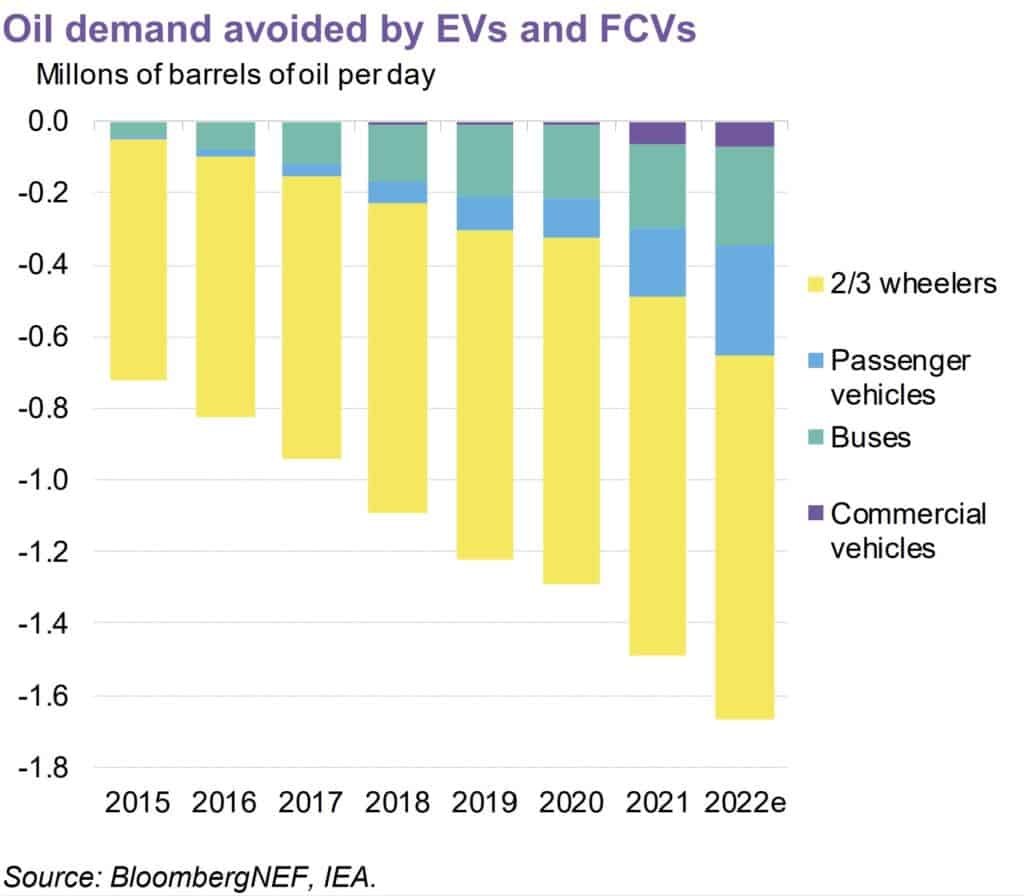 Exports of Motorcycle
Motorcycles are exported by China, Germany, India, Thailand, and Japan, with China and Germany being the most important markets. As a group, the five largest motorcycle exporters accounted for more than 58% of total international motorcycle sales in 2021.