Many outside of China fail to see multiple new China battery gigafactories driven by EV demand also provides increasing grid based storage. China has the largest factories with a 5 to 10 year leap on technology such as LFP, and size of EV market and the 240 electric manufactures. The demand for lithium, graphite, nickel, manganese and rare earth elements, used in motors and magnets, drives up prices.
A report in Gasgoo (Translated here) highlights the EV auto markets surge. With the background of the global auto industry reform and the tightening of carbon emission policies, mainstream auto companies have accelerated the pace of electrification, and the energy storage industry will also enter a large-scale development stage.
South Korea based SNE Research, in their Top 10 list of global power battery companies showed China has 6 battery manufacturers on the list These 6 companies including CATL, BYD, AVIC Lithium, and Guoxuan Hi-Tech, Envision Power and Honeycomb Energy, account for 47% of the global market share.
EV sales continue to accelerated. In November 2022, EV Sales set a new monthly sales record of 450,000 vehicles or 17% of new car sales.
By May 2023, BEV car sales have risen to 30%. For updated data check out EV Surges
Note that China target was 20% of new sales by 2025. And batteries are going nuts.
Battery Demand from EVs exceeds 1 TWh
Various companies have stated crazy expansion plans.
Honeycomb Energy's goal is to occupy 25% of the global market share. Honeycomb says it will challenge the global production capacity target of 600GWh by 2025.
Funeng Technology also announced its own 100 GWh production capacity plan.
CATL by 2025 expects to exceed 670GWh. Their factories include Fujian Ningde, Sichuan, Qinghai, Guangdong, Jiangxi, Shanghai and other places;
BYD is planning production capacity to exceed 600GWh in 2025. Their factories are at Guangdong, Qinghai, Chongqing, Hunan, Xi'an, Guizhou, Jiangsu, Hubei, Zhejiang and other provinces and cities;
AVIC Lithium Battery also has a capacity plan of 500GWh in 2025;
Yiwei Lithium Energy will build a capacity of 200GWh in 2023
Guoxuan Hi-Tech has a capacity plan of 300GWh in 2025
Lishen Battery has a capacity plan of 100GWh by 2025
Total, with incomplete statistics from Gasgoo, by 2025, China local lithium battery companies have planned production capacity to exceed 3TWh.
Top 10 Battery Suppliers
Lithium Requirements for China Battery Demand
To put these numbers into perspective for lithium carbonate equivalent requirement, 1GWh requires ~900 tons LCE. So by 2025
CATL: 670GWh requiring 603,000 tons LCE;
BYD: 600GWh requiring 540,000 tons LCE;
Guoxuan (Volkswagen recently invested in the company, owns 26% of Guoxuan): 300GWh requiring 270,000 tons LCE
Just these 3 companies to execute their plan, they would need 1.4mt. For 3TWh, that is > 2.7MT of LCO.
Market Share of GigaFactories in China
The data from CNEV Post has a different market share data from Mining.com. They say CATL as 52%, and has stated it needs to have 450GWh of battery production by 2025. (CNEV Post Jan 2022)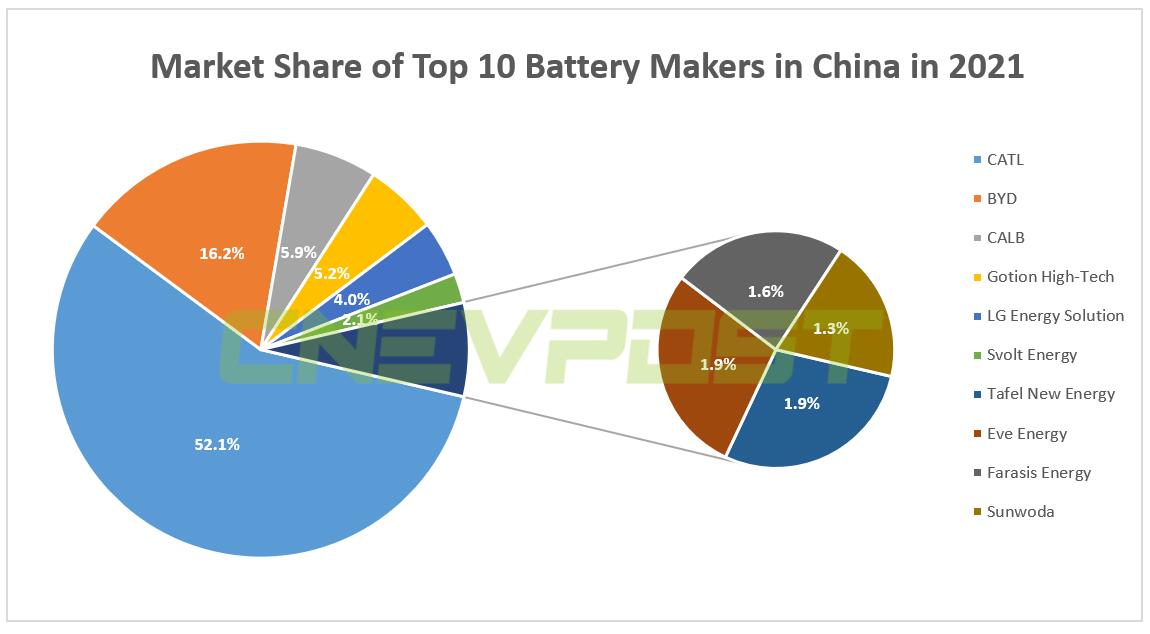 The lion's share of thw market are existing the Lithium Ion Nickel battery manufacturers (Panasonic, Tesla) and Lithium ion phosphate battery producers (eg CATL). New battery technology comes into production in limited quantities by 2025, but won't reach full potential until the 2030s. (CATL Jan 2022)