Recent news is that for the EU bans ICE vehicles by 2035. It becomes illegal to sell any fossil fuel engine (ICE) powered vehicles.
No hybrids.
No gasoline vehicles.
No plug in hydrid.
No diesel
No petroleum.
35 countries have agreed, and although Germany is holding out (due to lobbying by auto manufacturers) and the various countries will need to go back to their own countries for their own transition plans. Europe has a large rise in the number of EV models available from major manufacturers from both Europe and China.
EU Manufacturers Media Statements
Mercedes Benz says it will go all electric by 2030, but with conditions (see Verge 2022). That condition is "where market conditions allow," implying that Mercedes may still sell gas-powered vehicles after 2030 in countries that lack consumer demand for EVs.
Herbert Diess, the CEO of the Volkswagen Group, believes that the German automaker can sell more electric cars than Tesla by 2025. In 2021, VW said half of its vehicle sales to be electric by 2030 and all by 2040. Now changed to 2035.
Volvo (China ownership) is aiming for 100% by 2025
Stellantis has had very mixed messages, but in 2022, stated all vehicle sales in Europe would be electric by 2030 (Stellantis announcement) and 50% in the USA.
BMW sees 50% EV by 2030, but warns about supply chain issues and avoiding a rush to EVs (Cnet)
ICE cars pollute
ICE pollute not just CO2 emissions (4.5 tonnes per year) but many others including VOC's, nitrous oxides and nanoparticles. A FAQ breakdown on the USA EPA page here
What is the reason EU Bans ICE Vehicles by 2035
The reason the European Parliament lawmakers banned the sale of new petrol and diesel cars from 2035 is that a key pillar of the European Union's plans to cut net planet-warming emissions 55% by 2030, from 1990 levels .
It is a target that requires faster emissions reductions from industry, energy and transport.
Electric cars and plug-in hybrid vehicles made up 18% of new passenger cars sold in the EU last year
German auto association VDA lobbied lawmakers to reject the 2035 target, which they said penalised alternative low-carbon fuels and was too early to commit to, given the uncertain rollout of charging infrastructure.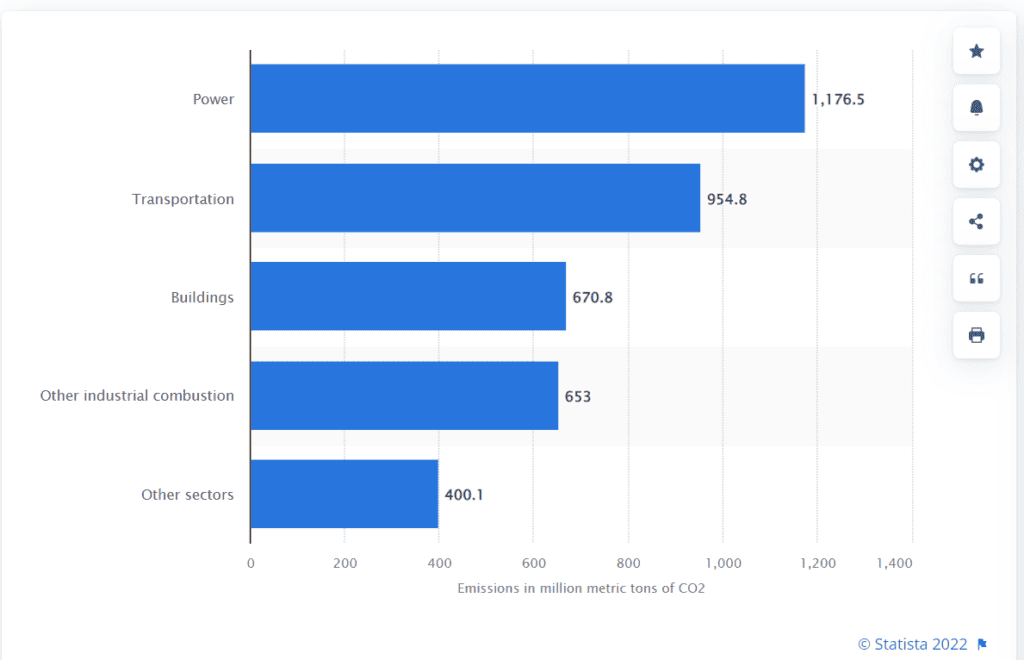 | Sector | Tonnes (M) | % |
| --- | --- | --- |
| Power | 1176.5 | 31% |
| Transportation | 954.8 | 25% |
| buildings | 670.8 | 17% |
| Industrial Combustion | 653 | 17% |
| Other Sectors | 400 | 10% |
UK Already Banned ICE Cars from 2030
Note that under current plans, the sale of new petrol and diesel cars will be banned from 2030, with some hybrid cars given a stay of execution until 2035. (Whatcar). Electric passenger car sales increased by 186% in 2020 and EVs enjoyed a record year in 2021 against a market that was 28.7% below pre-Covid-19 levels. With 1.65 million new cars registered in 2021 but more battery electric vehicles (BEV) were sold than over the previous five years combined (2016-2020), with 190,727 registrations (11.6% of all new car sales),. Plug-in hybrid electric vehicle (PHEVs) made up 7% or 114,554 cars.
This means that used electric cars made up 18.5% of all new cars registered in 2021. By the end of 2022, it's projected that electric cars will outsell diesel and mild hybrid diesels. 2022 has seen month on month increases. Hybrids are decreasing.
Percent market share in 2021=11.6%
Jan 2022 = 12%.
Feb 2022= 17.7%
Mar 2022 = 16.1%
April 2022=27.9%
May 2022= 30%