Robert Llewellyn from the Fully Charged show interviewed Prof Donald Sadoway from MIT and the Ambri battery company using their liquid metals battery technology. Almost all batteries today are lithium-ion. LiOn is good for mobility but is overkill for stationary batteries states Sadoway. Ambri is designed for large scale, with no mobility and at room temperature. Liquid metal batteries (at 500oC) provide cheaper and more effective firming for the grid and for business applications.
Note
Other companies are developing other liquid metal designs
The Calcium-Antimony is patented.
During development calcium replaced the original magnesium anode.
Liquid salt batteries store thermal heat in concentrated solar and other technologies and should not be confused with liquid metal
Different technology metal air batteries are described in another post.
Liquid Metals Battery Design
Sadoway's liquid metal battery is three liquid layers of different densities. He compares the separation as what oil and vinegar do in a salad dressing. The densest, a molten antimony cathode, is on the bottom, the light calcium alloy anode is on top, and the intermediate-density calcium chloride salt electrolyte sits in the middle.
Calcium & antimony electrodes
Calcium-chloride salt electrolyte
Commercial grade materials
Calcium is the 5th most abundant element in Earth's crust
Ambri.com website details design
Benefits and Features.
Costs $180/kWh to $250/kWh depending on size and duration. The projected cost by 2030 is ~ $21/kWh
No fire risk with no combustible materials
No membranes.
The batteries operate at extremely high temperatures (500oC)
Modular – about 2MWh per 40′ container
Cabled in series so reduced cabling expense
Self-heating and insulated, requiring no external heating or cooling.
Lifespan of more than 20 years
Maintain 99% of their capacity
Round trip is 80% efficient
Over 5,000 charging cycles, 4 years
Scaleable to GW size – connect containers
Daisy chain power connectors – can be in parallel or serial
Cheap raw materials
Unlike aqueous redox flow batteries, needs no pumps
Unlike LiOn batteries does not need cooling or heating systems to keep < 50oC
Commercial Progress
Sadoway cofounded Ambri to develop a commercial product in 2010 with patents and with financial support from Bill Gates.
LMBC (liquid metals battery corporation) raised $15m in 2012
The first installation is for a Microsoft data center in Nevada for a data centre on a 3,700-acre property. This battery will store energy from a co-located 500 MW renewable generation. It appears to be a 250MWh battery.
Ambri secured $144M in capital led by Reliance New Energy Solar (Reliance Industries), Paulson & Co., Bill Gates, Fortistar, Goehring & Rozencwajg and Japan Energy Fund to accelerate growth and build domestic manufacturing facility
Six 1M installs with commercial partners
Aiming for 2025 fully commercial
Production 12 GW pa factory
Sustainable and profitable.
Supply of Antimony
Nearly 90 per cent of the world's antimony today comes from China. Other countries have reserves. However, since 2013, China has limited exports. During 2019, China moved from being a net supplier of antimony to an importer, sending prices soaring. In August 2021, Ambri signed a supply agreement with Perpetua Resources in Idaho, one of the few U.S. producers of antimony. Perpetua is focused on gold but antimony is in that project. Antimony is now on the critical metals lists in all major regions including Canada, UK, US and Europe. (https://www.moltenmetalscorp.com/why-antimony/)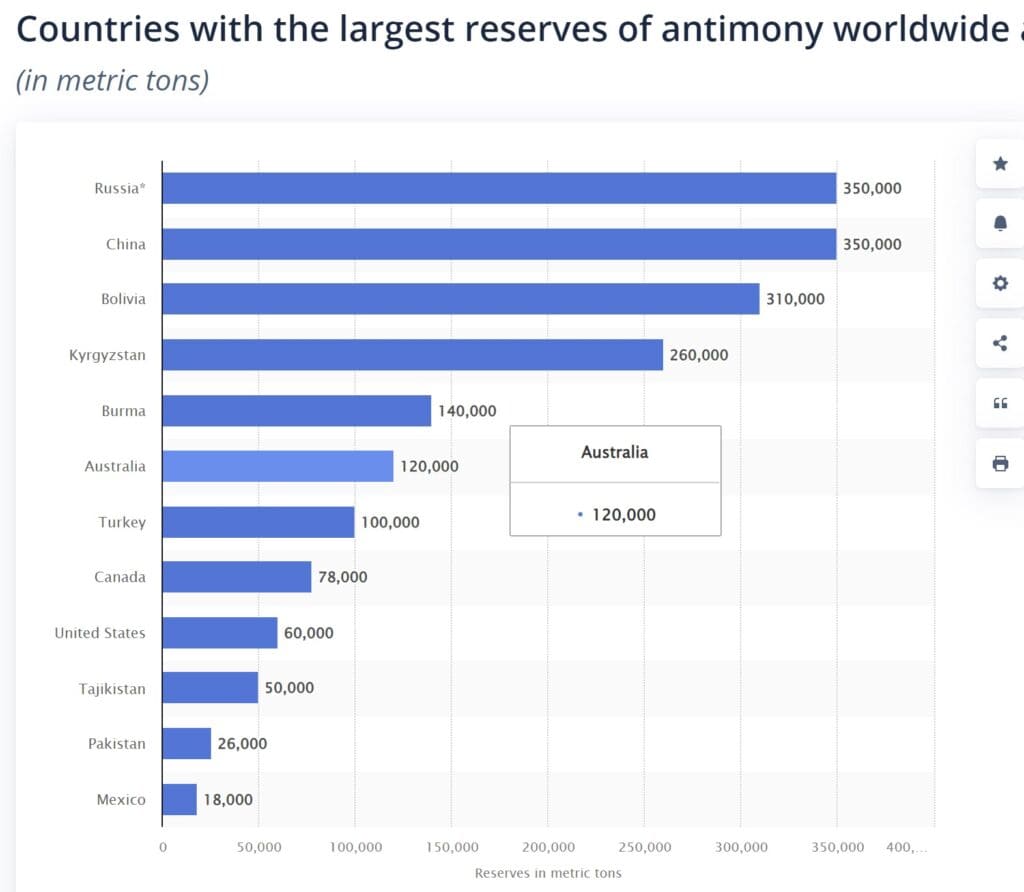 Other Metal Batteries
Pellion Technologies – Lithium Metal
NantEnergy – Zinc-Air uses zinc but also has a fully recyclable aluminum-air battery
Phinergy – Aluminium-Air
E-stone – Iron-Air. Dutch based E-stone
Form Energy – US based Frame Energy has iron air products in pilot or early deployment.
Further Reading