Latin America is the region of the world with the largest amount of lithium and the lithium from Chile is over 20% of the global current supply. Its so-called Lithium Triangle will inevitably become the nexus for the coveted mineral, which is often referred to as "white gold." The Lithium Triangle is a lithium-rich region in the Andean southwest corner of South America, spanning the borders of Argentina, Bolivia, and Chile and forming a geographic triangle of lithium resources underneath their salt flats. Approximately 58 percent of the world's lithium resources are found in these three countries, according to the 2021 USGS Mineral Commodity Summary. For more details about lithium demand checkout the other articles on lithium, graphite and rare earth minerals.
Challenges for Lithium from Chile Bolivia and Argentina
Of the world's 86 million tons of identified lithium resources, Bolivia possesses 21 million tons, followed by Argentina with 19.3 million tons, and Chile with 9.6 million tons. However, this number has greatly increased with exploration of spodumene reserves in Australia, USA, Tanzania and other South African countries.
Geo-Political Challenges
With the change in governments, in 2021, the Chileans are trying to resolve the geo-political issues with mining in the Atacama desert. The previous military Junta allowed mining, and Sociedad Química y Minera de Chile or SQM is the largest miner. They were a fertilizer company but in 1968 were given rights to lithium as part of the political settlements. They currently produce about 140,000 tons of lithium carbonate and are looking to expand to 180,000 tons by 2022. But the current leftist government is concerned about mining, the disparity of wealth from mining, and the high levels of poverty among the indigenous people of that area. They do not want to privatise future lithium mining.
Should the wealth from the mining company help to rewrite some of the rules about where the profits from mining go? Will there be a sovereign fund created to capture some of the wealth? Will mining be allowed in unique habitats?
Lithium From Chile Politics
In Jan 2022, the outgoing govt, had an auction for 400,000 tonnes of lithium mining contracts, with SQM and Albemarle , the world's two largest producers of the ultra-light battery metal, in the running. The incoming govt is going to court to stop this as the incoming Govt wants to set up a national approach / sovereign fund. While the contracts are about 4% of the lithium deposits, expect some changes in the years ahead. (mining.com)
Water, a key issue for Lithium Extraction
The water-intensive nature of this process is also highly concerning—it requires 500,000 gallons of water per ton of lithium extracted.
Current research suggests that direct lithium extraction (DLE), a process by which lithium is extracted from brine water without the use of evaporation pools, preserves over 98 percent of the water supply used during extraction. Successful implementation of DLE technologies in the Lithium Triangle would appear to reduce externalities on the local water supply and the concomitant effects on indigenous communities.
Abermarle is the second largest miner of lithium and is also expanding its operations.
Lithium from Chile, Argentina and Bolivia Triangle
The Atacama desert forms part of the triangle has a large number of mining companies active. An article in United Word: Lithium: Capitalist extraction and dependency in Latin America has a particular view about the geopolitics, but has some interesting background. Bolivia has even produced an electric car to demonstrate lithium and batteries but it remains in a political quagmire. Chile and Argentina have had different pathways.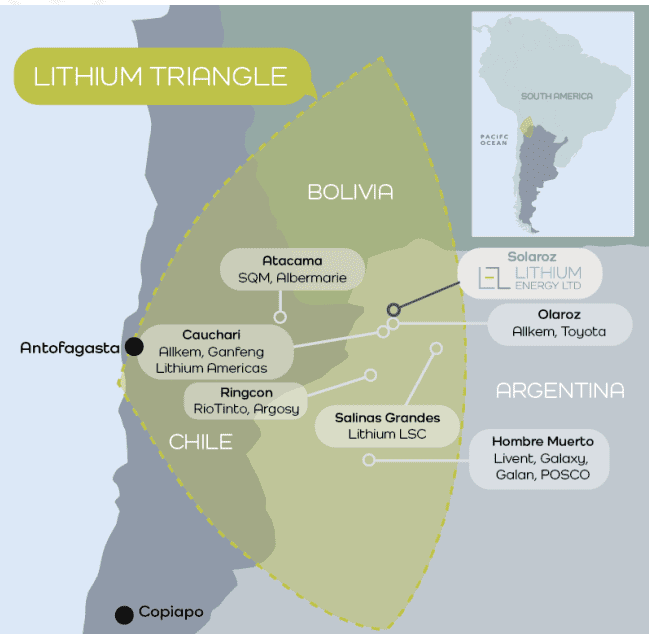 There are a number of companies in the Salar de Olaroz basin close to the border with Chile. Lithium Energy (ASX:LEL) Allkem's Olaroz, (ASX:AKE) and Lithium America (NYSE:LAC) all have mines or exploration licenses. (Google Map link https://goo.gl/maps/u89zbuoefdP7uh9n9)
The Atacama has the highest solar radiation levels on Earth. Water evaporates astonishingly fast, leaving mineral deposits behind. Magnesium comes out of the ponds. Also potassium. Lithium remains in a viscous yellow green pool, which SQM converts into powdery white lithium carbonate for battery makers abroad.
Lithium from Bolivia
A number of miners are also in Bolivia and the same issues present themselves in Bolivia as in Chile. The government estimated that Bolivia stores around 70% of the world's lithium reserves, some 100 million metric tonnes. The US Geological Survey puts the figure at a more modest 9 million tonnes. Salar de Uyuni is believed to be the world's largest lithium deposit. The original plan was to produce 30,000 to 40,000 tons of lithium hydroxide a year from 2022 requiring investments of €300 million to €400 million. However, recent mining exploration has shown areas in Argentina and Chile exceed those totals.
Bolivia with its poor investment climate has struggled to transform its lithium resources into commercially viable reserves. The poor investment environment is due to political instability. Lithiu resources in the Uyuni brines are immense but contain high levels of magnesium. That creates problems to separate out the magnesium from the lithium. The process is a chemically/energy intensive process that adds to the cost of extraction. Due to altitude, rain and snow slows down the evaporation process. The 2018 sales to foreign market reached 110 tons of lithium carbonate. In 2019, not a single tonne was sold due to political changes. In 2019 /20 the process has been restarted but Bolivia sells mostly to China and India.
Bolivia's state-owned company, Yacimientos de Litio Bolivianos (YLB)
ACI – from Germany which signed a deal in 2018, subsequently cancelled in 2019.
K-UTEC Ag Salt Techonologies – from Germany
Linyi Dake Trade since 2014 from China
CAMC Engineering from China
Lithium from Argentina
Argentina is the most promising expansion area. Argentina plans the lithium industry to improve its economy. It has the world's second-largest identified lithium resources (behind only Bolivia), and the third-largest quantity of commercially viable lithium reserves behind only Chile and Australia.
It has two commercially operational salt flats in its northwestern provinces of Jujuy and Catamarca:
Salar de Olaroz
Salar del Hombre Muerto.
Since 2019, many other lithium extraction mining sites have been under construction in Argentina's vast northwestern region of salt flats. Furthermore, in an effort to stimulate investment, President Alberto Fernández reduced taxes on mineral exports this year. Argentina's investment climate provides for improving investment. The lithium industry is expected to attract increased investment.
Map of Salar de Olaroz Basin
References and Further Reading
NY Times: Chile Rewrites Its Constitution, Confronting Climate Change Head On ( Ms. Sengupta reported from lithium-rich salt flats in Chile. Dec. 28, 2021)
Lithium Mining in Latin America Internation Mining 2016
Ryan C Berg 2021 South America's Lithium Triangle: Opportunities for the Biden Administration (Centre for Strategic & International Studies Aug 2021)
Bolivia launches call for lithium extraction (PV Magazine May 2021 )