On May 17, 2023, Japan's Big Four motorcycle manufacturers announced a bold new plan to cooperatively develop hydrogen motorcycle engines. Honda, Kawasaki, Suzuki, and Yamaha executives all gathered at a Tokyo press conference to announce the formation of HySE, which stands for "Hydrogen Small Mobility and Engine Technology."
In addition to the four biggest Japanese moto manufacturers, both Kawasaki Heavy Industries Limited and Toyota Motor Corporation will also join HySE as special members. KHI and Toyota have independently advanced their own hydrogen-powered research in their respective fields. While HySE will concern itself with motorcycle engines, it also plans to develop other hydrogen-powered engines for small mobility needs, as well. It seems part of the Cult of Hydrogen.
Hydrogen for Transportation Will Fail
For a detailed look at H2 for transportation see 10 reasons H2 will not be used for most transportation.
The question is why. Why now? The big 4 are losing market share as electric motorscooters take their market share, and hydrogen for transportation has a fuel cell, a battery and an electric motor, and often will weigh more than just a battery and electric motor. For a better analysis are articles about electric motorcycles or electric scooters
Hydrogen Motorcycle Engines Are Not New
Back in 2008, Suzuki and Intelligent Energy committed to a hydrogen motorcycle.
Hydrogen Motorcycle R&D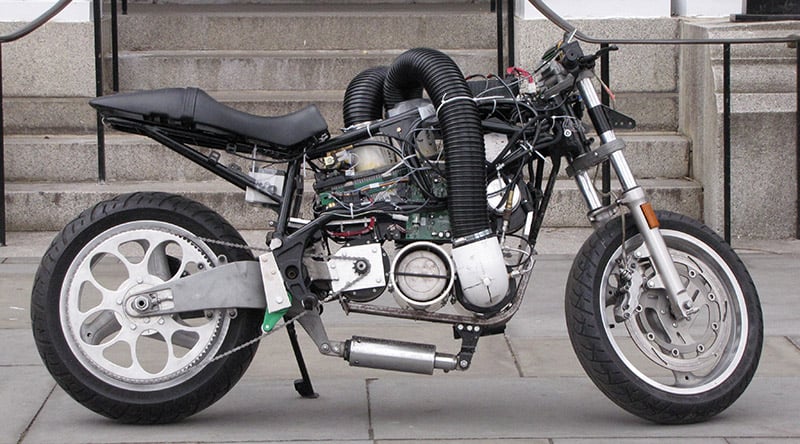 Japanese CEOs