We see and read about innovation all the time, but do we understand the 5 orders of innovation and use that to assess the daily reports of innovation in renewable energy, in medicine, in computing, construction or any of our lives. There are good explanations on the web, but a very good one is by Bill Nussey in Freeing Energy book (Dec 2022). A must read is his except on the innovation process and he explains through the lens of renewable energy.
The 5 Orders of Innovation by Bill Nussey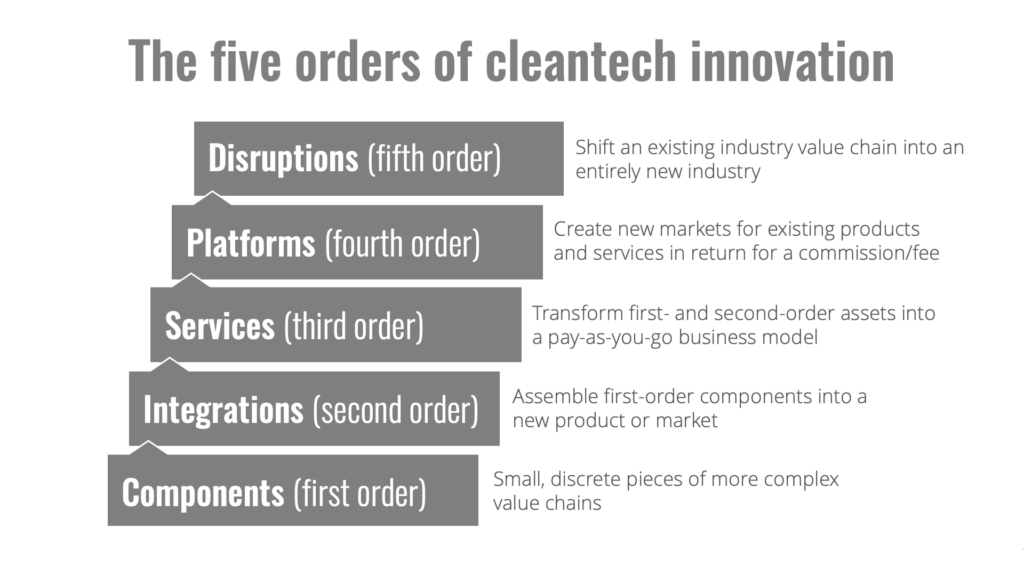 His example is in the transportation value chain, tires, steel, and electronics are first-order components that feed the second-order market of automobiles. The third-order market transforms assets into services, like taxis and rental cars. Lyft and other ride services that leverage existing assets are fourth-order markets. The 5th is robotaxis that disrupt the whole industry.
What Is Innovation?
The dictionary defines innovation as "The creation of a new device or process that is contrary to established mechanisms." When business people talk about innovation today, they can sound like medieval philosophers talking about alchemy. "Innovation is the secret to creating better products, happier customers, faster growth, and higher profits." (says Bill Nussey)
Knowing Orders Helps Understand the Challenges
Each of these orders tends toward its own unique set of opportunities, challenges, business models, and financing options. Understanding where a new technology or company fits into these orders simplifies the assessment of its risks and growth opportunities. There are exceptions.
Example of Orders in Renewable Energy
| Order Level | Notes About Level |
| --- | --- |
| 1 | Innovation at the cell level – individual silicon or perskovic cell. We see innovation in efficiency, change to yield, spectrum. E.g we see this report "New perovskite/organic tandem solar cell achieves record efficiency of 23.6%" but this will require new supply chain for perovskite, new factory, new process and new marketing. These are generally very expensive to implement and you have to make millions to get your investment back. But they are fundamental to the system. |
| 2 | Innovation at the system level such as the total system, so it might be conventional panels, or something like thin film. A total system but still missing the higher orders. |
| 3 | Services – for example how to install these panels or films faster or cheaper and allow uses where previously there was no application. Imagine putting the solar panels onto cars, so that charging was reduced. Or the company B5 – that manufactures the arrays in a factory along with all the wiring, inverters, and ships to sites so that they can be unrolled and operating within minutes of deployment. They are a system so safer, lower cost and faster to deploy than traditional single axis solar trackers or comparable solar racking solutions. So this is a complete service, using the technology or order 1 and 2. |
| 4 | Platforms are really the solar farms or community systems that make money out of the systems and services. In this order new billing systems or exchange of energy using blockchain can manage the system and allow multiple systems work together in the community or national. It could even work across countries – so someone in UK could "buy" their carbon neutral power from someone in Vietnam. It provides a global system that carbon reduction in one country can be verified in another using blockchain (using non fungible tokens) audit. |
| 5 | Disruption occurs when solar makes coal and gas electrical production un-economic and it dies. |
The Book – Read more about the 5 orders of Innovation
Freeing Energy is a value packed book. Buy it on Amazon.