Are electric motorcycles coming soon to a store near you? What is the situation? Turns out it is complicated. For scooters and mobility – adoption is accelerating. For the 125cc / 250cc range – there are some models. For the large touring bike – announcements and little else. For motorsports. Some interest. There are some notable exceptions such as Zero. In many respects the change is similar to that with EVs where Tesla is the leader, and now everyone else is trying to play catchup.
The industry is split on electric motorcycles. While electric motorcycles are more powerful than an electric bicycle, lower-cost than an electric car, and sustainable, only the small scooters have begun to change. Two-stroke engines with high emissions are being banned in most countries. (If you have been in the middle of a Ho Chi Min city motorcycle crush, you know what that means!) Electric motorcycle adoption is slow, but accelerating. Similar with electric cars, the pickup truck segment is well behind the car segment. The electric standon scooter and the E-bike market has exploded, and taking some of the commute and recreational customers. Small motorcycles are changing – because primary use is transportation. Larger motorcycles are not, as the primary use is recreation. Other reasons drive this slow uptake.
6 Reasons why Electric Motorbike Adoption is Slow
Size: a motorcycle is small. A car can fit a large battery and not make things too inconvenient, but a bike has not large flat space for it. A small battery leads to limitations in range and performance. Very fast bikes have short range. Bikes with decent range aren't fast.
Manufacturers: Most electric motorcycle makers are startups. They do not have the scale to make a lot of bikes. Most are hand-build bikes to order. Tehey can't spread costs as much, so their bikes are expensive. It also means they can't build up inventory, so in most cases you have a wait for delivery.
Battery Technology. While lead acid batteries started the change, lithium ion is lighter weight, higher capacity and faster charge enabling longer range.
Traditional motorcycle makers: slow to change as they don't see enough of a demand for electric bikes versus the IC bikes to start converting production facilities.
Long charge times: Compactness means you can't have big battery heat management systems (BMS) which limits charge times with how much power you can push through the conductors and the batteries; and reduces life of the battery.
Fuel Economy. A BMW F8000ST does about 53 mpg (4.4l/100km). An EV is over 100 mpg (2.21/100km) and a modern car so conventional bikes are already relatively fuel efficient. The driving reason is zero emissions.
Choosing an electric motorbike
Local or online purchase
Range – from 100km to 400km
Comfort – most have advanced suspension and improved seating / stands etc
Faster charging
Style – highway to offroad scrambler, commute to racing
Safety – bikes are high risk, and the modern EV motorbike market is compensating for this with new high-tech safety features each year, such as 360-degree cameras and smart rider assistance.
Size of Bikes
From step-throughs at 1kW to mopeds, to 8kW (equivalent to 125cc) through to the Zero at motorcycles with over 100kW (1000cc equivalent petrol bike) there are motorbikes to suit anyone.
Hundreds of Chinese Manufacturers
China has been in the forefront of moving from two "smoke" small motorbikes to electric. The cheapest use lead-acid batteries but manufacturers now use lithium-Ion to extend the range from 100km up to 400km. Weight has always been an issue with electric bikes, and a lithium ion battery is often 1/10th of the weight (but is more expensive). If you search Made In China for electric bikes, there are over 54,000 suppliers. Generally, they need government approval for import, and may require approval. They are available in China for $400 FOB.
Mft
Model
kW
Top km/h
Acc km/hr
1-100
Range (km)
Price
Website
Energica
EGO+ / RS
126
240
2.6
420
$5,700
Energica, now Ideomomics
Zero
SR/S
82
200
3.5
365
$20,000
Zero motocycles
Harley Davidson
Livewire
105
105
3
235
$39,000
Harley Davidson - Limited electric bike
Lightning
LS-128
150
350
2.2
260
$39,000
Lightening
Arc
Vector
95
200
3.2
436
118,000
Arc>
Damon
Hypersport
160
321
3
321
$17,000
Damon
Pursang
E-Tracker
11
110
120
$15,000
Pursang
Gogoro
Smart Scooter 2
7
92
4.3
109
$2,500
Gogo Swap and Go batteries
Tarform
Scrambler / Racer
41
193
3.8
193
$24,000
Tarform
Evoke
6061
120
230
2.6
470
$24,000
Evoke 6061 series
Super Soco
TC (China)
6
95
126
$5,000
Super Soco Australia site
Sondors
Metacycle
8
130
128
$5,000
Switch
Scrambly (2022)
52
170
150
TBA
Switch Motorcycles from NZ Denmark, China
DAB
Concept E (2022)
10
E29,000
DAB equivalent to 125cc, Burberry luxury
Husqavana
E-Pilen (2022)
8
100
Husqavana NZ
Ducati
Electric Racer V21K
120
Ducati Racing 2023-2026
UBCO
Farm Bike 2X2
50
120
$8,300
UBCO Farm or Adventure Bike
China
Scooter
2
120
$500
Example of Vespa like
Dat Bike (Vietnam)
Weaver 100/200
5
80
3s (0-)50
100/200
$US1,700
Dat Bike Vietnam
Ideanomics
Energicia
126
240
2.6
420
$6,000
Idenomics Electric Systems
Electric Motorcycles Coming with many models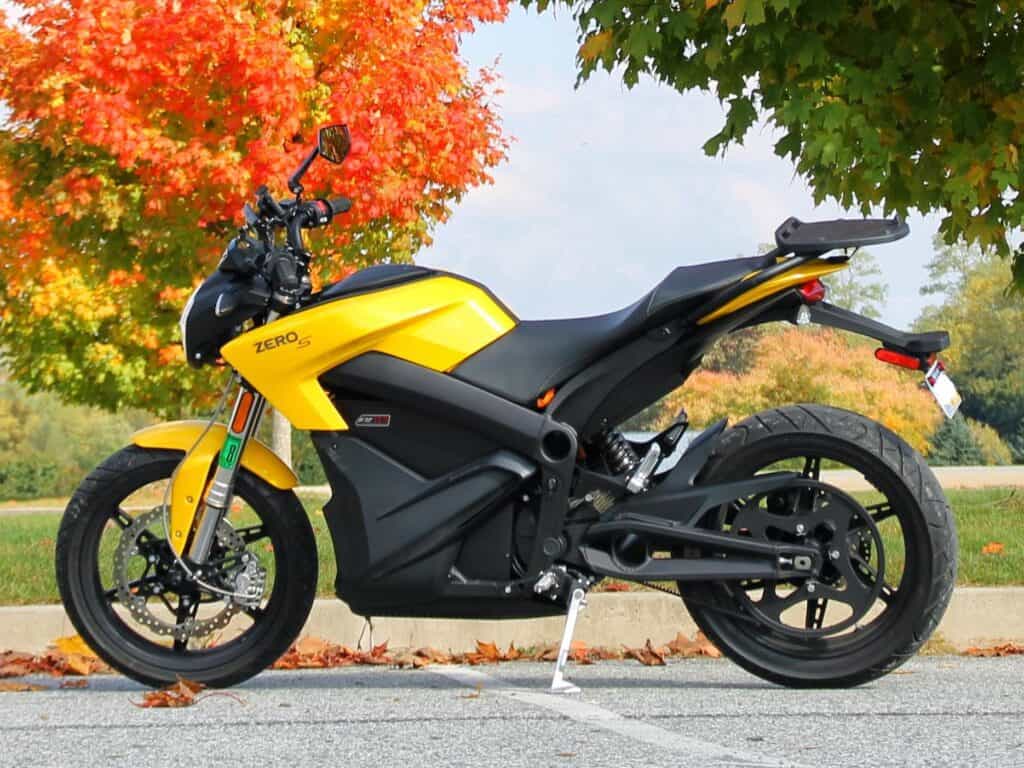 Top 20 Motorcycle Manufacturers Electric Versions
| Rank | Brand | Country | Electric Motorcyles |
| --- | --- | --- | --- |
| 1 | Yamaha | Japan | Lots of trials PES1 electric trials bike but has 35kW to 350kW motors for others, and announced NEO E-2.5kW 37km range scooter in Europe for 2022. |
| 2 | Honda | Japan | In 2021, Honda said 100% electric by 2040, and announced 4 models but have kids dirt bike (1.2kW) |
| 3 | Ducati | Italy | See previous table - focused on racing motorcycles. |
| 4 | Kawasaki | Japan | Said it will launch 3 models in 2022 and be completely electric by 2035. It has filed 3 patents for a water cooled electric. |
| 5 | Triumph | UK | TE-1 2 year project only with Williams Advanced Engineering (now owned by FFI (Fortescue) |
| 6 | BMW | Germany | Beginning to manufacture CE04 electric scooter. |
| 7 | Harley-Davidson | USA | See the previous table for Livewire specs. |
| 8 | Suzuki | Japan | Was talk of Suzuki / Yamaha / Honda collaborating on standardizing batteries and charging. India may be first country for e-scooter. |
| 9 | Aprilia | Italy | Announced eSR1 standup e-scooter but licensed. |
| 10 | KTM | Austria | Announced 2021 KTM Freeride E-XC plus smaller bikes for children. |
| 11 | MV Agusta | Italy | Nil |
| 12 | Moto Guzzi | Italy | Nil |
| 13 | Royal Enfield | India | Working on electric. |
| 14 | Indian Motorcycle | USA | Has Youth e motorcycle, and used to have Victory brand as well until 2017. |
| 15 | Benelli | Italy | preview at 2021 Beijing Motor show QJ7000D 10kW (similar to 150cc) and range 100km |
| 16 | Bajaj | India | Bajaj Cheetak has healthy share of the Indian scooter market and increasing to produce 0.5million per year. Top speed 48kph, 95km range, and 2kW motor. Supposedly may be OEM for Husqvana Vektorr. |
| 17 | Norton | UK | Some research at Unis. India TVS purchased Norton Motorcycles in 2020. TVS is the 3rd largest 2 wheeler company in India and sells over 3m units. (2 stroke). They have iQube scooter. |
| 18 | Bimota | Italy | Racing brand, no plans. |
| 19 | Hero | India | Announced concept e-scooter. AE-47, 150km range, under $2,000 in 2020. |
| 20 | Sur Ron | China | Range of e motorcycles. 22kW, 110kph, 100km Storm Bee, with competitors such as Voge ER19, SCS City Slicker |
| 21 | Evoke | China | Partners with FoxxConn Evoke Urban Series 130kph, $8,000, but see table above for bigger models |
These are the top 20 motorcycle brands - but which of these have a full value electric bike? Not Many
Electric Motorcycles Coming – in Other Products
In April 2022, Ideomomics purchased Energica, an Italian motorcycle company fully, and they intend to drive the electric motor systems (batteries, motors, battery management systems into other products:
Scooters & Motorcycles
Trucks & Vans
Agricultural Tractors – Solectrac
Drayage & Tractors
Off-Road Terminal Tractors / Yard Trucks
Buses and Coaches