The latest research shows that if we cut 2 percent GDP fossil fuel subsidies that goes a long way to the $1.8 on maintaining fossil fuel subsidies or 2% on our own destruction. Why would we not cut the 2% GDP fossil fuel subsidies, or the estimated $11m a minute, and asked the fossil fuel companies to do a 180 degree turn around then we could meet the net-zero carbon emissions plan. Sounds too simple? Not based on the most recent analysis of what companies and governments spend on fossil fuel subsidies.?
The estimated investment to achieve net zero is 2 percent of GDP. Why should governments not stop fossil fuel subsidies?
Sailing Boat Analogy
Today, the sailing boat of net zero is being carried out to sea due to the 2% of GDP spent on existing fossil fuel subsidies. The boat is being carried out to sea. Why do we not insist on simply changing that 2% so the boat is sailing to the shore, not out to sea? Turns out that most of the reasons are political
Outrage and Optimism
In their 140 podcast Every Country Could Be Carbon Negative with Erika Mouynes, the hosts reported that the world's governments are currently subsidizing our own destruction to the tune of $1.8 Trillion a year…yeah. Not good. What does it look like to turn these subsidies around to promote nature, clean energy, and equitable access to energy across continents?
How do we cut 2 percent GDP fossil fuel subsidies
This infographic show what we spend that money on. The IMF says we spend 11m per minute or $1.2 trillion but this report says that is under stated. We also spend an enormous amount on destruction of our environment. Some, like agriculture were set in motion decades ago, but we still pay out even though the world has changed.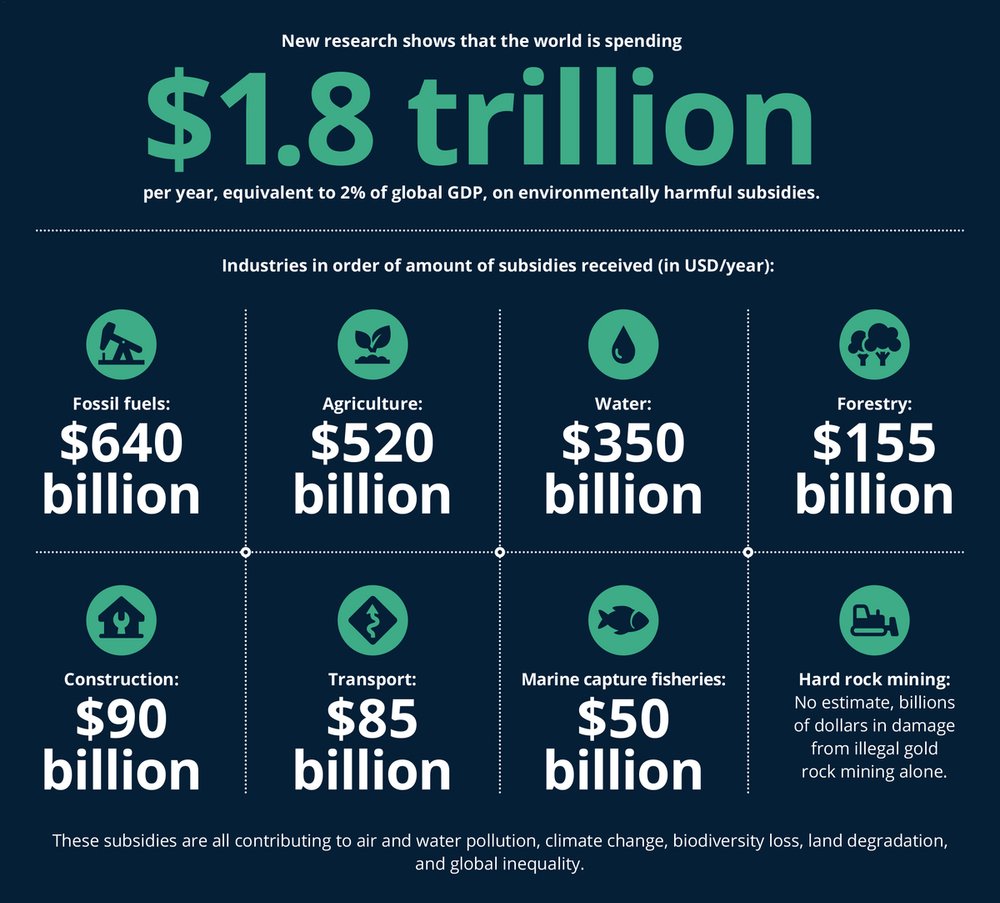 Fossil Gas Subsidies In Australia
A report from the Australia Institute shows that the LNP Coalition Govt of 2019 to 2022 sat on a $100-billion gas-tax rort. In 2019, the Australia Institute reckoned fixing the gas transfer pricing rort could increase Commonwealth revenue by $68 billion between 2027 and 2039, and $89 billion between 2023 and 2050. That was when gas was cheap. Asian liquified natural gas (LNG) spot prices are now about three times what they were in 2019 – so pick whatever multiple of $89 billion you like – depending on how long you think Russian gas will have pariah status and how long it takes the world to wean itself off carbon.
About $900m in resources royalty is paid on the $62.5b industry. And no tax.
Companies exporting gas from Australia are 95 per cent in foreign hands, new analysis from the Australia Institute and reported in the Canberra Times hows seven out of 10 gas export projects are at least 90 per cent owned internationally. Transfer pricing and complex financial arrangements mean few royalties flow to Australia.