Electric tractor models are increasing from different manufacturers for the smaller holdings in agriculture and horticulture. Models are available from different manufacturers are available. Check out the top 10 largest tractor manufacturers below, although Wikipedia has a list of dozens and Tractor Junction has a top 10 list. About 245,000 tractors are sold in the USA each year. In India, about 9m are sold annually, with another million exported. China has about 650,000 tractor sales per year. Coimpare with Global Car sales of about 80m a year which includes about 20% as pickup trucks.
Top 10 Tractor Manufacturers
Mahindra & Mahindra from India
John Deere USA
Massey Ferguson USA since 1953 although Massey was originally from UK
Case IH from the USA, since 1927
Sonalika International. India, since 1960
Escorts Group – ex Ford, in 60 countries (2021 = 4,695 tractors sold but in 2020 = 7,733)
Kubota Japan since 1890
Fendt (Germany)
Deutz Farh – another European manufacturer
Class – since 1913 and known as well for combine harvestors
Growing Demand for Tractors
BlueWeave Consulting says the global tractor market:
Worth USD 67.4 billion in 2021
Projected USD 98.0 billion by 2028
CAGR of 4.4% during the forecast period (2022-2028).
Various factors are driving the global tractor market
Increasing farm mechanization rates
Increasing automation in agriculture industry
Rising labor costs
Seasonal labor shortages
Shorter tractor replacement cycles.
Emergence of organic farming and growing demand for food products around the world
Integration of AI into agricultural equipment
The emergence of Farming 4.0 creates lucrative growth opportunities for the global tractor market.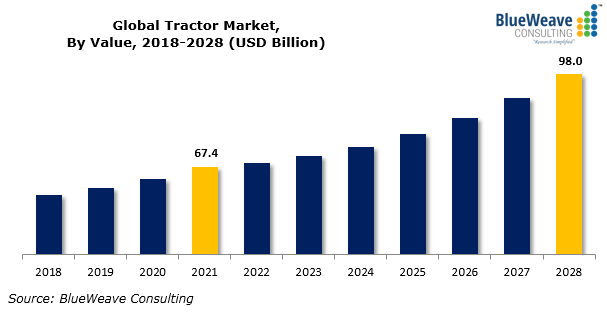 Electric Tractor Models
Some manufacturers have announced electric tractor models but few are producing them. Here is a short selection
Solectrac
Solectrac from the USA has made a few hundred. It has 3 models:
25HP (18kW) with a PTO power of 20HP (15kW) at $28,000 starting price. These have a 3 to 6 hour running time, with a 22 kWh battery. They say these are good for hauling, mowing, tilling
40 HP
75HP for vineyards and commercial farms
Monarch
Purchasers of the Monarch Tractors can place a reserve. The tractor is a 70kW / 10 hours of runtime.
John Deere
John Deere has announced new autonomous tractor concepts based on electric, autonomous driving and artificial intelligence
Small utility tractors based on their 1R models with high PTO power, allowing more than 10,000 m² of lawn (1 ha) to be mowed with one battery charge lasting 4.5 hours
Very large – e.g. very compact electric drive unit with integrated attachment. The tractor has a total output of 500 kW and can be equipped with either wheels or tracks.
Drones.