The Toyota No-EV strategy risks Japan's economy and will likely cause a major country upheaval. Multiple articles over the past year have raised that question. Most of the entire Japanese auto industry, and especially Toyota, appears to be in denial about the global ascendency of fully electric drivetrains. One could say this is Toyota, or Nissan's issue, but the heavy dependence on Japan's economy on the auto industry cannot be overstated. Moreover, Toyota has been identified as the 3rd most active climate denier organisation in its lobbying governments to reduce vehicle emission standards.
Some give Toyota a lifespan until 2030 before it goes bankrupt. (Electric Viking YouTube Feb 2022). EV's made up less than 0.2% of Toyota's total production.
A Carbon Tracker report in Nov 2022 (Slipped Gear) analysed 20 passenger vehicle manufacturers which covers ~85% of global vehicle production/sales against the Paris Agreement 2015 and the Japanese are not aligned.
Clean Technica pulls no punches in a hard-hitting article in Feb 2023 spelling out Japan's reliance on the auto industry and the risk to the Japanese economy., https://cleantechnica.com/2023/02/03/is-toyota-circling-the-drain-will-it-take-japan-with-it/
Carbon Tracker Warning
Carbon Tracker says Japan could lose 50% of auto exports, more than 14% of GDP, and almost $700 billion (80-trillion yen) in profit by 2040 if no action is taken
Toyota No-EV Strategy Vs Hydrogen Cars
Toyota has invested in hydrogen fuel cell cars. In 2022, in the USA less than 15,000 H2 cars were on the roads versus over 800,000 new sales of electric. Total H2 cars globally was about 20,000. Even in Japan, there are 134 hydrogen charging stations versus 29,000 electric chargers vs 39,000 gas stations. For a full breakdown on hydrogen cars, check out the Change Discussion blog post.
Japans Economy and Data
Japanese Demographics
The population is crashing. It is aging fast, has a very low birth rate, minimal migration, and will decrease massively. This means domestic auto demand will crash.
Japan is a country of 124 million, down 4 million over the past decade.
Population peaked at 128m in 2010
By 2050 projection is 106 million
By 2100 just 75 million.
Ie.e in 90 years population decreased by 53 million people
This aging population will smash the demand for cars. The working age population is moving to be less than 50% of the population, and these are the ones who buy cars. Not the over 65 year olds.
The birth rate has fallen to 1.3 children per woman (went under 2.1 in 1974)
Over 20% are over 65years old in 2022 and forecast to rise to over 40% by 2060
Japan's Economic Situation At Risk
General government debt is equivalent to 262.5% of its gross domestic product in 2021
Japan has the highest debt-to-GDP ratio in the G7 (IMF data https://www.imf.org/en/Countries/JPN)
Total debt is over $8.4Trillion (largest in the world)
Japan's Auto Industry Is Strategic
Japans auto industry is 3rd largest globally (behind China and USA)
Japan is the second largest exporter of cars globally and exports sells 82% of its cars outside of Japan – it makes cars in multiple countries
78 factories in 22 prefectures
About 84% of cars produced in Japan are exported. It even sells used cars overseas,.
Cars are 14% of total exports
Manufacturing 24% of employment (services are 72% and agriculture only 3.5%) . (https://www.jetro.go.jp/en/invest/attractive_sectors/manufacturing/overview.html)
5.5m employed in auto industry or 8% of total employment
The Climate Group warns that without a move to BEVs, Japan could lose 50% of its auto exports, more than 14% of its GDP, and almost $700 billion (80-trillion yen) in profit by 2040. https://www.theclimategroup.org/our-work/press/report-warns-japan-faces-employment-crisis-and-economic-decline-auto-industry-lags
Japan Companies 50% of its Autos
USA imports vehicles. China exports a few. Most produced in China stay in China, but the rise of EV is changing that. In contrast, Japan exported 3.8m cars in 2021. About 1 in 3 go to USA. In total, about 50% of all vehicles produced are for international markets. For cars actually manufactured in Japan, 84% are exported.
https://www.jetro.go.jp/ext_library/1/en/invest/img/attractive_sectors/manufacturing/attractive_markets/img-pc07.png
Japan's Domestic Autos
The number of plugin hybrids has overtaken non-hybrid autos. Battery EVs are 0.1%
Japanese Car Production
Rank
Group
Sales
Rev
$B
EBITDA
$B
3Cap
(B)
Debt
$B
Invest
(3yr)
PE
Op
Margin %
1
Toyota
9,529,000
249.4
6.1
258
182
99.3
9.4
8.08
7
Honda
4,399,000
121.8
1.8
49
112
198
6.0
5.01
10
Suzuki
2,448,000
4.0
19
6.6
35
11.8
13
Mazda
1,244,000
31
2.1
6
15
11.3
15
Subaru
885,000
34
14
0
11.6
The following table has been constructed from a variety of sources (Organisation Internationale des Constructeurs d'Automobiles), Statista, and Companies Market Cap. The data is EOEI - as the sources of data varies.
There are a large number of other car manufacturers. E.g. There are over 240 EV companies in China alone making EV cars. Some of the new entrants (Rivian, Lucid) have high market cap but don't yet have any major sales. Others have production and low market cap.
Some of debt is vehicle lease and inventory.
Toyota No-EV strategy at Risk of S-curve
Toyota's no-ev strategy risks Japans economy if the global EV S-Curve adoption continues. The adoption of new technology adopts an S-Curve as explained by Tony Seba and others and you can read more in my explanation here. For any winner, and these are Tesla and BYD currently, there will be losers.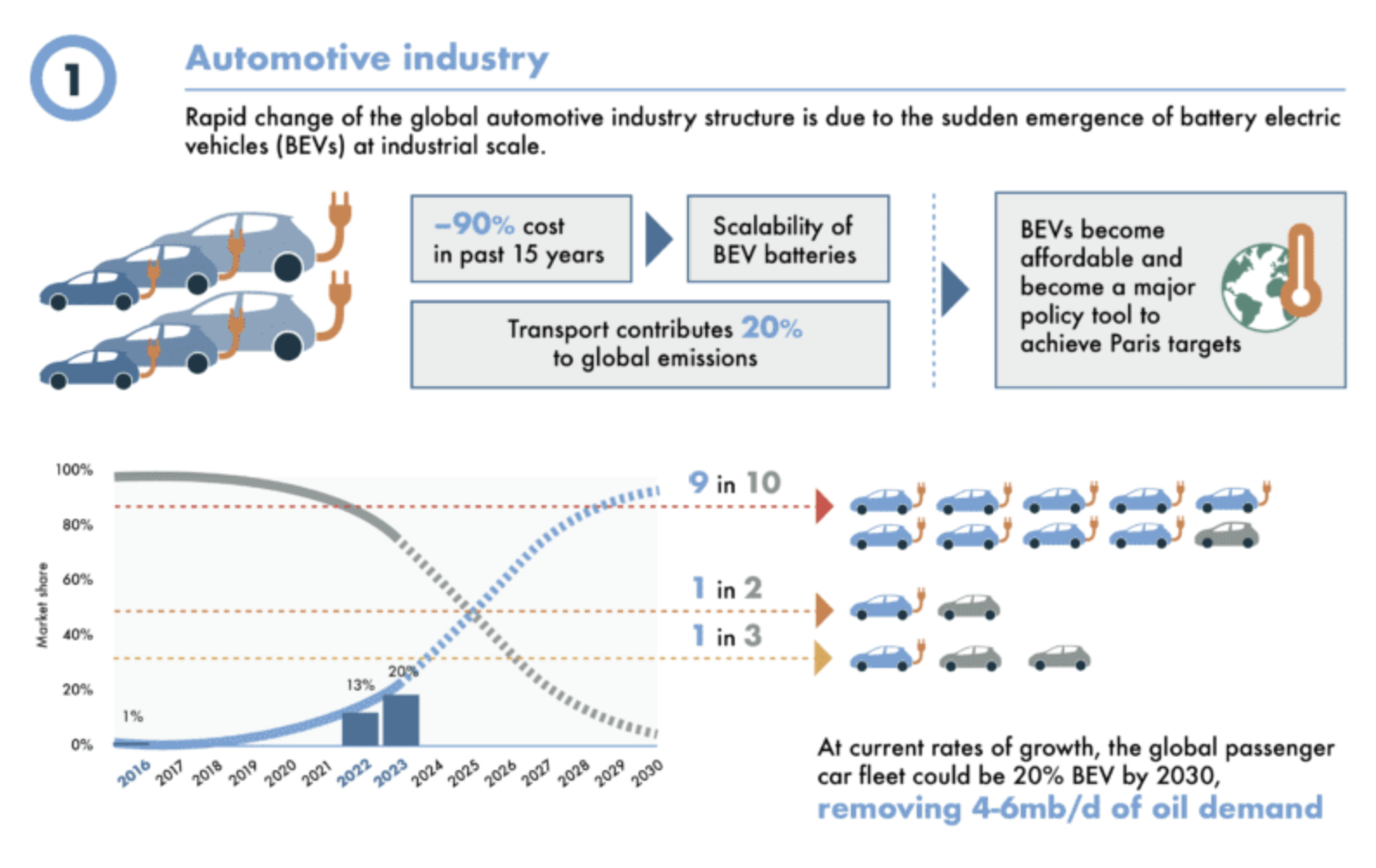 10 Years of Globl EV Sales – What is Next?